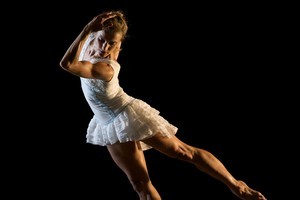 It was, says Kiwi dance star Pieter Symonds, "one of the nicest days I might ever have in my life".
On the morning of January 24, she booked her wedding venue.
By nightfall, she was sipping champagne and accepting one of the top accolades in the world of dance - best outstanding female modern performance at the UK Critics' Circle National Dance Awards.
Her ballet company, Rambert Dance, was awarded best company, with former Aucklander Mark Baldwin accepting it as artistic director.
Symonds said she was "quite shy" about giving her acceptance speech in front of "a roomful of legends of the dance world".
"I had to put an eloquent sentence together, which doesn't come easily after a few glasses of champagne."
The award was something the 33-year-old had always dreamed of and made years of hard work worth it.
"Deep down, I just had an incredible heartbeat."
Symonds said no one was prouder than her mother, Carol, who works for the IRD in Christchurch.
"Later when I talked to her, she was holding back the tears ... you could hear the croak in her voice ... the Kiwi staunchness that wouldn't quite give into the emotion."
The dancer said the award was a tribute to her mother for years of taking her to dance lessons after school.
Matz Skoog, interim artistic director for the Royal New Zealand Ballet, said Symonds was "a very special dancer".
"It's a pretty big deal to be nominated to a Critics Circle award in the UK, let alone getting one."
He said she deserved recognition at home and was proud to say he had given Symonds her first job.
Symonds was in New Zealand last year dancing the lead in Carmen and is due back at Christmas for a wedding reception. She is tying the knot with Rambert rehearsal director Simon Cooper in London in July.