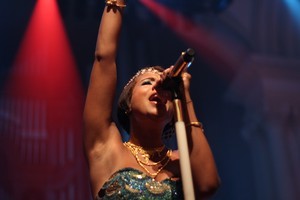 What: Splore-City
Where: Auckland Town Hall
When: Friday and Saturday night
It would have been more magical under the stars in Aotea Square where Splore-City was originally meant to be.
But by moving the two-day festival to the Auckland Town Hall it became a good old fashioned party, even if Friday night was a little under-whelming despite R&B-pop diva Kelis shaking her wild thing and singing all the hits.
Come Saturday night, with a bigger and more boisterous crowd in, the vastly different music acts - from the white boy soul of Mayer Hawthorne to the wall-of-sound whimsy of Caribou - rubbed along together well and turned the haloed hall into a giddy and often trippy dance party.
Splore - the biannual three-day music and arts festival that is usually held by the seaside - has never been one to ride the wave of predictability and its first central city event was no exception.
There was the friendly, fun, and live-it-up with your mates mood that's typical of Splore. And there was face painting, lots of trees and plants adorning the stage, and hot pink hairy monsters and leery green kermits wandering around. Put it this way, you know you're at Splore when a tall black broccoli woman is getting down right alongside you as if it's the most natural thing in the world.
In a seemingly odd move it was London producer Four Tet who kicked Saturday night off. But while he might be an introverted knob-twiddler he got the adoring and rowdy masses swinging when he put the hammer down and let rip with his futuristic electronica (like modern day early 90s trance) that's punctuated with shards of sound and niggly bits of noise.
London trip hop-meets-lounge act Belleruche played a sweet but often twee set with occasional outbursts of rupturing beats before showman Mayer Hawthorne and his band the County took the stage. "Welcome to the Mayer Hawthorne show," he said before warning anyone standing with folded arms to go and stand at the back.
He got the crowd singing along to the sweet soul of Maybe So, Maybe No and doing "rain hands" for I Wish It Would Rain, during a set that also included a cover of the Doobie Brothers' What A Fool Believes and party tune The Ills, off his debut album A Strange Arrangement, was a pumped up and wailing finale. He's no Curtis Mayfield, but the lad can sing and he knows how to party.
It was Canadian chap Caribou (real name Dan Snaith) and his band who turned on a special hour-long set that took you up to the spectral dance floor in the sky, then had your ears crying in pain, before transporting you off to the tribal gathering.
While tracks like Odessa, with his dreamy vocals, are strange and poppy dance favourites, Snaith and band are at their best when they send a sonic centerpede out onto the dancefloor and get their jittery twitch and groove on.
Meanwhile, on Friday night, Barnaby Weir's folk-rock collective Fly My Pretties crammed themselves on the stage to fill the hall with the sound of Wellington. Anna Coddington and Age Pryor took care of the serenades while Aaron Tokona raised the funk factor towards the end.
After a brief interlude of performance art, Kelis took the stage. Dressed in a glittery mermaid-inspired ensemble, she strutted and thrust the air, proving she still has what it takes to bring the boys to the yard.
She showed she had more to offer than her collection of sing-along pop hits with a set that spanned her whole career, although it was big-bangers Millionaire, Milkshake (which she mixed with Madonna's Holiday) and Trick Me that were the night's party starters.
They warmed up the dance floor for British producer J Star, who kept the sweaty audience grooving until the wee hours.
And lets hope there's another Splore-City in the offing, only next time let's have it under the stars.
Reviewed by: Scott Kara and Jacqueline Smith