After his recent sold-out show here, Aloe Blacc makes a triumphant return. He talks to Scott Kara.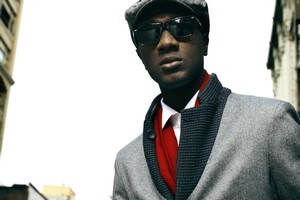 It's only been a few weeks since American soul man - in fact, make that soul sensation - Aloe Blacc played in New Zealand, and he's back here this week due to popular demand.
"I had a really good show and there were a lot of people who couldn't get in cos it sold out," he says in his softly spoken lilt.
It's a good indication of the 31-year-old singer-songwriter's recent rise in popularity, much of which has come off the back of the song I Need A Dollar. It's a simple song - off his excellent second album, Good Things, from last year - that rides a catchy, resolute groove and is primed with compassion and strength.
"To me the core of the song, which is the rhythm of the vocal melody, is very gospel," he says. "It has its roots in the foundation of soul music which is gospel, and it's about the struggle of people around the world who are trying to pay rent, and just trying to put food on the table. And I think that's what's so attractive about it, it is the bare essence of the necessity of life, but also the essence of soul music because it has that call and response background."
He knew right from the start the song was special and since he has been playing it both the meaning and reach of the song have changed.
"First I wrote it as this busker's tune, for a lonely homeless guy on the street. But now people rejoice and sing along. It's much happier. It's a fun song," he laughs.
Blacc is a late bloomer in soul music; he started out as a hip-hop MC, then started singing in the early 2000s when people started telling him he sounded good. It was around this time he wrote one of his first soul songs, the beautiful and poignant refrain Mama Hold My Hand which many years later ended up on Good Things.
"I was listening to a lot of singer/songwriter music and I had this idea for the lyric, 'Mama hold my hand I don't think I can cross this road by myself', so really it started out as an experiment of writing a singer/songwriter song. And the lyrics reflect my relationship with my mother and my grandmother."
In the mid 2000s he signed to experimental hip-hop label Stones Throw who were expanding their roster into other styles of music.
"They signed me as a future soul singer, a genre that I guess you could consider part of neo soul."
His 2006 debut album, Shine Through, was a diverse collection taking in everything from folk, hip-hop and dancehall, as well as being influenced by his Panamanian and Caribbean heritage. And even now he says the sounds of Calypso and other Latin music creep subconsciously into his music.
Following Shine Through Stones Throw suggested Blacc try working on a classic soul album and on Good Things he converted into a fully-fledged soul singer. He now believes he's found his true voice.
"Shine Through was diverse, but Good Things is very focused and I think soul music fits my voice best."
He also moved from a personal focus to a more political and socially aware stance on Good Things, represented best by songs like I Need A Dollar and Life So Hard.
"I was recording the album during the financial crisis in 2008 and I felt it was necessary to reflect the time and speak for the people."
And he channelled his love of artists like James Brown on Say It Loud, Marvin Gaye's What's Going On, and Sam Cooke's A Change Is Gonna Come. "I take a cue from that kind of soul music, and that socio-political spectrum, and Good Things follows in that tradition."
Lowdown
Who: Aloe Blacc
Where and when: The Studio, Auckland, Feb 16; SFBH, Wellington, Feb 17
Listen to: Good Things (2010); Shine Through (2006)
-TimeOut