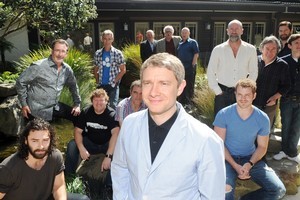 Key cast members of The Hobbit made their first media appearance today, clearly ready to get the show on the road following chronic delays and industrial action.
A press conference for Sir Peter Jackson's prequel to the Lord of the Rings trilogy was held this morning at the Park Road post-production studio in Wellington's Miramar.
Thirteen actors, who will play dwarves, and English actor Martin Freeman, who will play Bilbo Baggins, fronted up to speak to reporters.
A statement was first read out from Sir Peter, who is recovering from an emergency operation for a perforated ulcer, apologising for his absence.
"I'd love to be with you all this morning but I'm currently under a medical form of house arrest to prevent me from overdoing it until fully recovered from my recent operation."
He said he took casting "very seriously".
"Those of you who are familiar with The Hobbit will know the importance of the comradeship between Bilbo and each of his 13 dwarf adventurers."
In The Hobbit, Thorin, leader of the dwarves, and twelve other dwarves, visit Bilbo and ask him to help them reclaim a mountain from a dragon.
Freeman, known for high-profile roles including the character of Tim Canterbury in BBC's comedy The Office, told reporters he was "extremely chuffed" to have won the lead role and had to constantly remind himself he was in The Hobbit.
He gushed about Sir Peter and quipped:"He's as normal as is normally possible for someone who is richer than (King) Croesus".
Northern Irish actor James Nesbitt, of the Cold Feet television series, is to play Bofur the dwarf while leading Scottish actor Ken Stott will play Balin.
Shooting is expected to start next month after delays including Sir Peter's hospital stay, last year's departure of the original director Guillermo del Toro, and a threatened actors' boycott kept filming at a standstill.
When asked about industrial action last year, New Zealander John Callen, who is to play Oin the dwarf, dismissed it as "last year's news" and the cast appeared eager to change the subject.
When NZPA asked to speak to Freeman, after the press conference, he was quickly rushed away by a minder and told not to comment.
However, New Zealander Mark Hadlow, who will play Dori, said he was "overjoyed and delighted" to be part of the movie.
"Since day one it's been unbelievable. It's so exciting. Everyone's been working together as a really neat sort of little family of dwarves..."
Other New Zealand actors include Jed Brophy as Nori, Peter Hambleton as Gloin, Stephen Hunter as Bombur and William Kircher as Bifur.
- NZPA