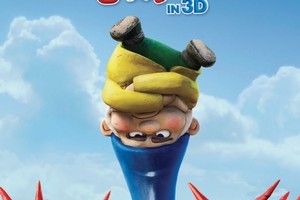 Romeo and Juliet gets probably its kitschiest makeover yet, set in a world of garden gnomes. With music from Elton John, it's an unusual combination of tragedy, plaster and flamboyance, but director Kelly Asbury (Shrek 2) manages to create a fun animation.
The modern-day tale retains the main gist of Shakespeare's story of star-crossed lovers Gnomeo Bluebury (McAvoy) and Juliet Redbrick (Blunt) who meet, fall in love and then discover they're from warring families. Set in Stratford-upon-Avon, the pair live in neighbouring gardens which belong to two grumpy humans, Mr Capulet (Richard Wilson) and Miss Montague (Julie Walters). Their traitorous love affair sets off a series of events that escalates the conflict between the two families, led by Gnomeo's mother Lady Bluebury (Maggie Smith) and Juliet's father Lord Redbrick (Michael Caine).
Considering this film is intended to be a fun way of introducing Shakespeare to a young audience, it's no surprise creative licence has been taken with the storyline, especially its traumatic ending.
It's a courageous idea retelling this story with gnomes, not just because you're reducing Shakespeare to a backyard battle between garden ornaments, but because gnomes are a little bit naff. At first these plaster statues seem cold and certainly lack the normal warmth and cuteness of a loveable animation star, but the well-cast voices go some way to making them appealing, especially Blunt and McAvoy.
Gnomeo and Juliet is most memorable though for its crazy and adorable non-gnome characters, with Nanette (Ashley Jensen), a fountain frog and Juliet's confidante, and a lonely, romantic flamingo (Jim Cummings) standouts.
It's fun and lighthearted but you are left wondering what Shakespeare would think.
LOWDOWN
Stars: 3.5/5
Cast: Emily Blunt, James McAvoy
Director: Kelly Asbury
Running time: 84 mins
Rating: PG
Verdict: Shakespeare like you've never seen it before
-TimeOut