From Detroit to Auckland, Mayer Hawthorne and the County's sound is the future of soul music.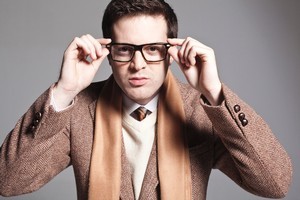 Mayer Hawthorne - a stylish, slightly geeky looking white boy with a golden voice - is having the best day of his life.
"I get to make music for a living. It doesn't get any better than that," he chuckles on the phone from a recording studio in his adopted home town of Los Angeles.
He's just sent the final track of his second album - and follow-up to the excellent old school-meets-modern day soul record A Strange Arrangement from 2009 - to get mixed, and he's excited.
"I've come along way since A Strange Arrangement. That was really my first foray into soul music - and really creating a whole album on my own. And I didn't really know much about anything when I was writing and recording it. Since then I've learned so much about every aspect of music, especially singing. Prior to that I had only sung in the shower."
There would have been some sweet tunes coming out of Hawthorne's bathroom then, because the guy sings with a smooth, dreamy and powerful lilt like a brew of Smokey Robinson and Curtis Mayfield.
And Hawthorne - born Andrew Mayer Cohen in Ann Arbor, near Detroit, Michigan - also writes and produces the songs, is a multi-instrumentalist, and raps under the alias of Haircut. But it's his soul music that caught the attention of Peanut Butter Wolf, the head of record label Stones Throw (home to Aloe Blacc and Madlib among others), who confessed Hawthorne was the first artist he had signed after hearing only two songs in 2008.
Hawthorne and his band The County - "A group of my favourite musicians in the world and most of them I grew up with in Detroit" - play the centrepiece set at Splore-City on Saturday night at the Auckland Town Hall.
The 32-year-old says coming up with his classic 60s soul sound in the present day has a lot to do with being brought up in the 80s and 90s on a steady diet of Nirvana and Smashing Pumpkins, and hip-hop acts N.W.A., Public Enemy and Nas.
"That's what really allows me to look at [soul music] from a different perspective and bring it into the future and create something new and different and harder."
Then there's that voice of his which he can only attribute to listening to guys like Robinson, Mayfield and Isaac Hayes from an early age.
"My parents bought me records instead of the toys that most kids got," he says.
All these influences come through in his music, from the brassy and percussive groove of The Ills, to the loping hip-hop and love-lorn soul of Just Ain't Gonna Work Out, and on to the sweet and bouncy Supremes-style One Track Mind.
But is he really the sweet kind of guy he sounds like on record?
"Well, I wouldn't say I'm a nice guy all of the time," he laughs. "I come from Detroit. It's a place where you definitely gotta be smart, you know. Put it this way, I put in a lot of time on the street."
While Los Angeles is where he lives these days, he is a Detroit boy through and through, which is why he went back to Motor City to record his new album so he didn't lose "that grittiness, that soul, and everything I love about Detroit.
"It's easy to get soft out here in LA, and I wanted to make sure I didn't lose where I come from. But don't get it twisted, I love living in LA, it's an awesome place to be, and I don't see myself leaving here anytime soon. Life is pretty good out here and besides the traffic there's not a whole lot to complain about. It's easy to wind up at the beach while everyone in Detroit is shovelling snow off their driveway."
And come time for his next album expect to hear other influences coming through like Black Sabbath, Steely Dan, and even the Doobie Brothers.
"It's still very much soul music but it's progressing and you're definitely going to get a better feel for my personal individual style.
"I'm excited for everybody to hear the new album and hear the growth and progression."
But for all his influences, and where his roots lie, Hawthorne says he just makes music he loves.
"The main rule is fun. I try not to over-think anything and I make music for myself, my family, and my close friends, and if other people happen to love it then that's fantastic - if not then that's cool too."
LOWDOWN
Who: Mayer Hawthorne
What: White boy 60s soul today and for the future
Debut album: A Strange Arrangement (2009)
Where and when: Splore-City, Auckland Town Hall, Saturday, 10.10pm
-TimeOut