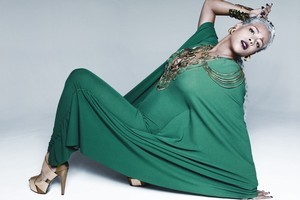 A song like Milkshake was a rarity in the bog-standard world of modern day pop music. With its futuristic, tinpot beats and cheeky and staunch lines like "my milkshake brings all the boys to the yard", it was catchy as well as innovative.
Nearly eight years on, Kelis is still proud of what the song, and follow-up Trick Me, achieved.
"I changed music with those records," she says. "I changed the way females saw themselves. When Milkshake came out there was nothing else like it. And if you look at the five, six, seven years after, it completely made everything else detour.
"I don't want to say that it was just me, but that era and time for me was so monumental because it really did change how female artists portrayed themselves and how their beats sounded, and how they talked on records. I think that's awesome, being a part of something that was really powerful, and Trick Me was just a continuation of that."
She was last in New Zealand in 2004 with a full band - around the time she was at her peak after Milkshake - and jokes that this time round, when she plays Splore-City tomorrow night, she will be bringing a "DJ symphony".
That might sound a little budget but it is in keeping with her latest, dance-floor-focused album Flesh Tone, which features banging French house mogul David Guetta, along with the likes of Benny Benassi and Diplo. It's an oonst-driven dance pop fun fest.
"I had no grand mission statement. I just wanted to make something that feels good," she says.
However the late 2000s were anything but fun times for Kelis. Since her last album, Kelis Was Here in 2006, she has been arrested for disorderly conduct in Miami (she was later cleared of all charges) and in 2009 she filed for divorce from rapper Nas, who she married four years earlier. She was pregnant with their son Knight at the time.
Today on the phone from Kelis' home in Los Angeles, Knight is grumbling and squawking in the background as his mother chats in her laid-back, almost lethargic way. "He's grumpy today," she laughs.
She says when Knight came along he helped inspire her passion for music again after years of being disillusioned with her art, losing her motivation to write, and struggling to find meaning in what she was doing.
"[Having a baby] is the epitome of life, it's fun and exciting, and I'm happy in my life, I feel really blessed, so to me it's just about what feels good and about making this [music] fun again.
"So I enjoy the music that I'm making now, I make my own schedule and I think having a child gives you a reason to work hard, whereas before it was like, 'why am I doing this?'."
She's quick to point out that while "being a mum is the best job I have" she's still her own person - and she loves making music too.
"I think it's really important to keep your own identity, because it is really easy to get swallowed up and pulled in every direction. For me, just sticking to what I know has been the best thing I could have done."
Kelis started out singing in church in Harlem, then left home to further her education and pursue a music career in her late teens. In the late-90s she hooked up with Pharrell Williams and Chad Hugo of the Neptunes, who produced her beautifully crafted R&B-hip-hop debut, Kaleidoscope. Years later they would also produce Milkshake for her.
Of course, Kaleidoscope, and songs like Caught Out There (remember her recurring line, "I hate you so much right now"?), started turning pop, R&B, and dance music inside out well before Milkshake. And musically and creatively, Kelis feels she's come full circle these days. "When you start off in the business you have a really naive mentality and you really don't know what the business has in store for you. And then as you go on you become jaded and bitter," she laughs.
"You know? When it's no longer a love and it becomes a job.
"But now I think for me it's gone back to being not so much about the business as it is about loving what I do again - and wanting my child to see what I do."
LOWDOWN
Who: Kelis
Where & when: Splore-City, Auckland Town Hall, Friday, playing 10.20pm
Albums: Kaleidoscope (1999); Wanderland (2001); Tasty (2003); Kelis Was Here (2006); Flesh Tone (2010)
-TimeOut