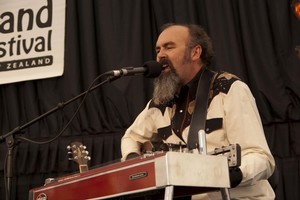 Why do male folk musicians grow beards? "Folkers are too lazy to shave," grin a couple of hirsute blokes at the Auckland Folk Festival, avoiding the wind under a caravan awning with a couple of jars.
It's true, there weren't many beards braving the Kumeu mud to attend the festival's energetic dance workshops.
"This is the hardest and fastest dance in Bulgaria and that means almost in the whole world," declared teacher Sonya Arabadzhieva, before leading 40-odd non-bearded people off into a selskoto, a heel-toe grapevine sort of dance, with a whoop and a twirl of her red hanky.
But then, if they were lazy, folkers wouldn't go to "Old-Timey" fiddle workshops and singalongs in the morning and stay up until the wee small hours making music on banjos they assembled at home on Great Barrier Island with parts from Vietnam, Illinois and Taiwan.
But that's what they do. For many, jamming is the best bit. Which isn't to say they don't enjoy the concerts.
"I put my guitar in the washing machine," joked New York drawcard Diane Ponzio as she brought out her ukulele - or "dancing flea" as it's known in Hawaiian.
Festival president and Devonport Folk Club organiser Roger Giles has one of the biggest, whitest Old Testament beards around. A shepherd from Shropshire, he never shaved when out with the horses for three-day musters.
"A man with a beard is a man without secrets," he says. You can always see what he had for breakfast. Besides, "shaving's a bore!"
Auckland owes its folk scene to immigrants like Giles. He'd never been to a folk club before coming to New Zealand in the 1960s - but he started going because they were singing the same songs he used to hear at the pub back home.
The festival started in 1973. The original stalwarts are now getting on a bit; liking their creature comforts they now "pig out" - Giles' words - by bringing three or four tents each to the festival. But young families turn up for puppet making, medieval mummers plays and interactive storytelling.
The bright side of seven brothers turned into seven swans? "They'll never have to wear undies again," Mary Kippenberger tells her seven young audience volunteers in feather masks.
Folkers have big discussions about what "folk" music actually is. Giles is seen as a bit of a rebel for his all-inclusive ethos. He claims to prefer jazz to folk but then what is jazz but the folk music of New Orleans?
"To my mind, folk [music] is what people relate to," he says.
He once sang an old traditional song at a folk club night and people listened politely, but then a gal got up and sang a Beatles song and everybody joined in. "Folk music is as much about the way it's presented as what it is."
Someone else describes the music as "of the people". Folkers are grounded because of the music they're into, he says. "They're people who care about people before they care about dollars."
Which is why, perhaps, "folkers can't afford to get a shave! ... Or we've had too many close shaves already!"
And then everyone chuckles into their beards.