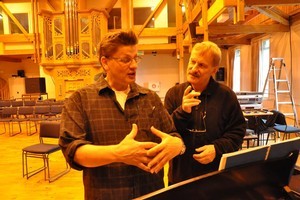 Last year I had misgivings about whether the New Zealand Symphony Orchestra's first concert of the season would live up to its title, Postcards from Exotic Places. The fact that familiar Lalo and Dvorak works accounted for two-thirds of the programme did not bode well.
Add to this the liability of a modish, over-busy poster for the event and perhaps one should not have been surprised at such a disappointing turnout.
Conductor Perry So beguiled us from the start with the East-West mix of the first of Bright Sheng's Postcards. Sheng's later nod to Stravinsky's Sacre brought out the powerhouse precision we expect from the NZSO and the work faded poetically in the luminous sheen of Wish you were here.
The prodigious talents of Tianwa Yang deserved a worthier vehicle than the prosaic Spanishry of Lalo's Symphonie Espagnole. Nevertheless, the violinist had no problems delivering the fiercest of passions, although it was the airy grace of the Scherzando that revealed her special artistry.
An encore of a brilliantly dispensed Allemande by Ysaye, written for Fritz Kreisler, showed that this 23-year-old can hold her own against the legendary players of her instrument.
After the interval, Jack Body's Arias from the opera Alley provided a Kiwi ballast to the earlier Bright Sheng offering.
The flamboyant counter-tenor soloist Jon Jackson exuded an almost regal presence, yet his mostly successful leaps between high and low register inevitably drew too much attention to themselves.
In the 1998 opera, with the music divided between a singer and an actor playing the young and old Alley, it was altogether less distracting.
Although the new orchestrations lacked some of the original opera's traditional Chinese instruments, Body's lean, evocative scoring had its own rewards.
A cor anglais suddenly surged through in the second song like a Chinese suona, while the third aria's evocation of night was magical, despite one sadly exposed violin line. Dvorak's New World Symphony was a rousing finale. Sforzandi positively roared in the first movement, the Scherzo moved from Beethovenian fury to Bohemian contentment and the exquisite gypsy colourings of the Largo almost compensated for some rough ensemble with its famous chords.