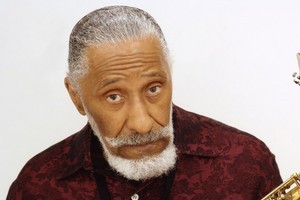 The great saxophonist Sonny Rollins - at 80 one of the last of his generation of bebop musicians - has been confirmed for one New Zealand concert during the Wellington Jazz festival at the Michael Fowler Centre on June 11.
Rollins played with geniuses such as Thelonious Monk, Bud Powell and Miles Davis among many others but also applied his distinctive, hard-edged sound to the Rolling Stones 1981 album Tattoo You and delivered the warm solo on Waiting on a Friend.
Born in New York, Rollins made his first recording (with pianist Bud Powell) when he was 18. He played regularly with Monk and Davis, recorded the first album under his own name at 21, joined the Max-Roach-Clifford Brown group for two years until 1957 then formed his own group. Down the decades he penned such classic jazz as St Thomas, Don't Stop the Carnival and Oleo. His most widely acclaimed album was Saxophone Colossus in 1956, although recent albums have shown him in good form. In 2001 he won a Grammy for the album This is What I Do, in 2004 he was given a Lifetime Achievement Grammy.
Rollins famously withdrew in 1959, returned to playing then went to a retreat in India in 1966 (after recording the soundtrack to the movie Alfie) and was absent for six years - but in recent years he has been playing regularly on the festival circuit. As far back as the mid-90s he was being called one of the most important jazz musicians of the past 40 years.
With so many of his peers having passed on, that assessment has only grown.
Tickets for Sonny Rollins go on sale on March 7.
- TimeOut