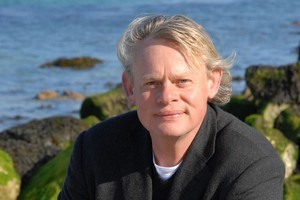 "It doesn't make much sense for a guy who hates the water to live on an island ..."
"It's only an island if you look at it from the water."
I love that. I love the logic of it (it's an exchange from Spielberg's Jaws by the way) and the way it plays with the idea that islands, no matter how big or small, are notional things; they are a matter of perspective - or imagination. Which is not bad work for two lines of dialogue from a blockbuster movie.
However anyone expecting anything quite so, well, philosophical from actor Martin Clunes in his three-part Islands of Britain (the final part screens at 7.30pm, TV One, on Sunday), will have been sorely disappointed.
On the face it, this short series is a terrific idea - and one that a New Zealand documentary maker might wish to emulate. Clunes and film crew have set out to visit a dozen or so of the roughly 1000 islands that lie off the coast of Britain to speak to their inhabitants and to explore their environments.
"I have always been fascinated by life on remote islands," Clunes claimed in the first episode, "and wanted to know what it is like to live there, and how the islanders cope with the isolation." Fair enough.
Unfortunately this programme's ambition doesn't seem to go much beyond a meandering, disconnected travel junket with Clunes at the centre - going deer stalking, playing bagpipes, yelling a lot. The islands are no more than pretty window dressing and the islanders as shown as little more than wacky and/or spiritual oddities. There is no sense - despite Clunes' banalities at the end of each episode - that we have got even remotely close to understanding why people want to live in these remote places.
The problem is likely Clunes himself, or should I say programme makers putting people like Clunes in their shows. In these celeb-obsessed times, it seems makers of popular documentaries no longer trust the material's intrinsic interest value, and so dress up it with a well-known face who adds little value to proceedings other than their well-known face. This leaves Islands of Britain as little more than just another celeb vehicle with nowhere to go.
You might say the same of perhaps the silliest thing on the telly this week, TV2's Panic at Rock Island. This movie-length, one-off drama featured a good selection of well-known Australasian faces delivering a script that, while probably intentionally (though definitely unintentionally) funny, took a long time to go nowhere.
The gist, in case you missed this, was that a bio-weapon, a virus called B9K, had escaped a Sydney lab called AVP and found its way into the crowd at a rock festival (briefly featuring Gin Wigmore) being held on an island in Sydney's harbour. Cue lots of vomiting of blood, panic, SAS toting guns, dark conspiracy and one of the greatest concentrations of over-acting I've seen in some time.
And what an anticlimax. The large cast, led by Outrageous Fortune's Grant Bowler (and what seemed to be half the actors from the Underbelly series) fannied about for two hours as Bowler's Dr Quinn, Medicine Man, attempted to identify then eliminated the terrible virus, all the while fighting the idiots in the State Parliament. The end of the world - or at least Sydney - seemed nigh. And then? Well all it took to save them all was a bunch of people from that lab turning up with boxes of antidote.
It was just a pity it didn't double as a remedy for the feeling I'd just wasted two hours of my life.