With the arrival of the new telly season this weekend, Jacqueline Smith looks at how primetime on the major networks shapes up on each night.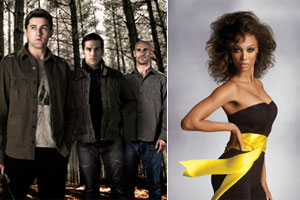 Not only is Waitangi Day celebrated with special local programming this year, it also marks the launch of most new season shows and TV3's sister channel Four.
The new channel's head of programming, Ben Quinn, says he is confident the mix of shows will cement it as the channel of choice for an increasing number of viewers.
"Four is the channel where you can forget about bad weather, bad news and financial updates. It's the place to escape to when you've had a tough day, a hard week or just feel the need to be entertained or have a laugh," he says.
TV3's head of programming Ged Mahony says the channel's new season line-up is the strongest he has seen in years.
"I am really proud to see such a large amount of local programming making up our schedule, we are committed to encouraging home-grown talent and I think TV3's new season is testament to that," he says.
Meanwhile, TV One programmer John Wright highlights the return of MasterChef New Zealand, Marcus Lush's new show North and local and international parenting shows as some of the pillars of the line-up, as well as new Aussie imports Offspring and Tangle.
Further into the season, Kiwi actress Hannah Marshall will join the cast of popular Australian series Packed to the Rafters.
TV2's director of programming John Kelly says he is excited to see all the top dramas back, with Vanessa Williams joining Desperate Housewives when it returns next week, and Brothers and Sisters picking up a year after the devastating car crash of the season finale. He says TV2 is home to the country's most popular comedies which run back-to-back on the Wednesday line-up. He's excited to see New Zealander Martin Henderson star in Off the Map from the creator of Grey's Anatomy and says people who like The Incredibles will love No Ordinary Family which starts next Thursday. TVNZ's new digital youth-centric channel U will launch in March. But here's how the primetime week shapes up ...
THE NEW LINE-UP, DAY BY DAY
SUNDAY: Four, which takes the place of music and youth-related channel C4, starts its first year carrying some of TV3's most successful shows that pitch to a slightly younger demographic. It kicks off with new episodes of favourite shows The Simpsons and Family Guy, and new slapstick shows like Total WipeOut.
Meanwhile TV3 rolls out new episodes of the hugely popular Modern Family (7pm), followed by All New Grand Designs, House and Australian comedian Wil Anderson's panel show The Gruen Transfer, which previously resided on Sky Television's Comedy Central. TV One will be screening its Waitangi Day special What Really Happened from 8.30pm.
MONDAY: TV3's much-hyped new local show The Almighty Johnsons, which is tipped to take the place of Outrageous Fortune, makes its debut at 9.30pm, running at the same time as the new episodes of Castle on TV One and new medical drama Mercy on Four. The first episode of Community also screens on Four at 8pm while a quirky new local show Bigger, Better, Faster, Stronger, which takes ordinary home appliances above their limitations, screens at the same time on TV3.
TV2 has the return of Desperate Housewives (8.30pm), Brothers and Sisters (9.30pm) and Dirty Sexy Money (10.30pm). And if you were wondering what had become of C4 hosts Drew Neemia and Shannon Ryan, their new magazine show Drew & Shannon Live makes its debut 4.30pm Monday on Four.
TUESDAY: Local favourite Go Girls returns for a third season at 8.30pm on TV2 following Hell's Kitchen at 7.30pm. Go Girls will be competing with the debut of the Hawaii Five-O remake on TV3 and the return of NCIS: Los Angeles at 9.30pm.
Martin Henderson's new show Off the Map, screens at 9.30pm on TV2. The highlight of Four's Tuesday line-up is America's Next Top Model at 7.30pm - in this season, the girls take a field trip to New Zealand.
WEDNESDAY: If there's one night to glue yourself to the couch it's Wednesday, as cult favourites return in a back-to-back comedy line-up on TV2. Two and a Half Men screens at 7.30pm, followed by the final season of Scrubs, then The Big Bang Theory which is up against Packed to the Rafters on TV One. Courteney Cox's comedy series Cougar Town returns for a second season, screening at 9pm on TV2, followed by Drop Dead Diva at 9.30pm, which clashes with Four's new Alias-type drama Covert Affairs and the return of TV3's Sons of Anarchy.
THURSDAY: No Ordinary Family, a similar show to The Almighty Johnsons in that it is about a regular family with extraordinary powers, makes its debut on TV2 at 8.30pm - straight after a double-banger of reality cop shows Police Ten 7 and Highway Patrol. Meanwhile the competition hosts a night of animated comedy.
Four rolls out new episodes of American Dad at 7.30pm, followed by new episodes of Futurama at 8pm and South Park at 9pm. Ricky Gervais and Stephen Merchant's new show An Idiot Abroad screens at 9.30pm on TV3, opposite new cop show The Good Guys on Four at 9.30pm. And Colin Mathura-Jeffree returns to host New Zealand's Hottest Home Baker at 7.30pm on TV3.
FRIDAY: TV3's trusty comedy line-up resumes, starting with the second half of the second season of Glee, which is followed by Graham Norton at 8.30pm, 7 Days at 9.30pm and Madeleine Sami's new comedy Super City at 10pm. Meanwhile Four screens its new comedy Outsourced, about the comings and going at an Indian call centre, at 8pm.
SATURDAY: Reality TV and movies reign supreme on the TV3 Saturday line-up with Chefs Can Fly followed by The Farmer Wants a Wife, while on Four, new slapstick series It Only Hurts When I Laugh screens on Four. And Four is the place to relive the week, or the decade, with repeats of the popular 1990s' series Buffy the Vampire Slayer screening before a repeat of Tuesday's America's Next Top Model at 9.30pm.
-TimeOut