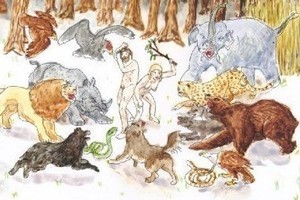 With so much of Auckland's attention focused on Monday's Laneway Festival it was always going to be interesting to see how Les Savy Fav's first New Zealand show was going to go.
The masses could've been rallied by Mayor Len Brown's exhortations that this city was about more than just the World Cup, or maybe the novelty of open beer-laden pastures (and the accompanying hangovers) could have gotten the better of them.
In the end what it took was a crowd of hundreds and one particularly sweaty half-naked man to prove that plenty of folks were still up for a party, particularly one that delivered a well-needed dose of the unhinged after the uniformly polite day out that had preceded it.
Laneway highlights Holy F**k were a late addition to a bill that included Cut Off Your Hands, and went about proving that while they can transfix a festival crowd they're really at home in more intimate spaces, entrancing but not making it any easier to decipher exactly what's going on with those tangles of gear on stage.


Les Savy Fav hit town with a strong back catalogue of singles and albums (like last year's Root For Ruin) that alone made for a must-attend show for fans.
More than that reason, though, was a live reputation that rewards repeated YouTube sessions and ended up paying off many more times in the over-exposed flesh.
By midway through the first song of the band's set costumed frontman Tim Harrington had decamped to the garden bar and was serenading Ian McKinnon Drive over the fence.

He'd shed clothing and leave the stage throughout their set, mic in hand and off on various missions to borrow a t-shirt off someone in the very back of the room, abduct an audience member to the Kings Arms' loos, or lead the crowd out the front door to be greeted with the words "you're outside, this is it" while the band played on.
The rest of Les Savy Fav were so solid that they were anonymous in comparison to Harrington, nonchalant about his performance no matter how many clothes he shed or where the audience's attention was focused as they played their way through a set that included a cover of California Uber Alles and peaked with crowd fave The Sweat Descends.
But distilling this down to words seems a disservice, unfortunately this was a had-to be-there show - hopefully Wellington's paying attention ahead of tonight.