Sunset Park by Paul Auster
Faber $39.99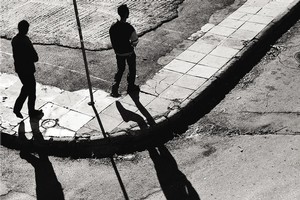 Paul Auster writes splendidly about disaffected, damaged people, usually alienated from society in some way, often isolated, physically and/or psychologically. The protagonists of his new novel are all like that. Foremost among them is Miles Heller, a 28-year-old loner with a history of dysfunction and denial.
Miles is in Miami, where he makes a living "trashing out" houses - ie emptying (and photographing) homes abandoned by owners who can't meet their payments. An illicit but loving relationship takes him back to New York, which he fled seven years before, after a fatal moment on a country road for which he still feels responsible. He finds a squat in Brooklyn, specifically in Sunset Park, opposite the huge Green-Wood Cemetery and its dead.
He joins three other misfits, who have lifted the place from a pigsty to a hovel. There's Alice, writing her thesis on 1940s gender relationships in popular culture. Bing the obese drummer, "militant debunker of contemporary life" and fixer of broken things. Frail Ellen, the estate agent and artist, tormented by her "fear without an object".
The four are also broken in various ways. Auster anatomises them in a plot of multiple viewpoints which also include Miles' glamorous, feckless actress mother, and his father Morris, one of the most mature and moving figures of the book.
It's a novel which scans a lot of US history. We get to hear about baseball, classic movies, baseball, wars in the Pacific and Vietnam, publishing and baseball. Read about Noodles Hahn, Whammy Douglas, Boots Poffenberger, and other greats of the bat, whose careers and crashes offer many, many metaphors for the human condition.
As usual with Auster, sex - or the lack of it - features, with much exploration of boundaries. There's forlorn sex, fumbling and flaccid and fearful and feral sex. And fantastic, fulfilling sex too.
There's also the social awareness and immediacy that marks his fiction, especially the "desperate times for everyone" that strip characters to their essence.
But the results are uneven. The writing is sometimes casual, the plot movement mechanical, the intertextual play (The Great Gatsby is both catalyst and symbol) contrived. It's hard to imagine the author of Invisible or The Book of Illusions ever telling us that his main character "is in fact a highly educated person with a nimble mind and a love of literature". Clunk.
It's a good book: I doubt that Auster is capable of writing a bad one. At times it's a compelling and utterly accurate book. A great one? I'll get back to you on that.
David Hill is a Taranaki writer.