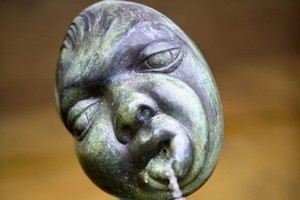 The cultural snob's quest for artistic summer sustenance continues: this week, we try sculpture in parks. Success at last! Air and art - culture in nature - make for cultivated cultivations. One approves.
The Auckland region has a number of privately owned sculpture parks, and we picked Zealandia, where Terry Stringer lives and works, just by Mahurangi Regional Park, 40 minutes north of the bridge.
Mountain Fountain is perhaps Stringer's best known work among Aucklanders - the sculpture controversially removed from Aotea Square and now back in commission beside the Anglican Cathedral in Parnell. (It looks good there, although I have misgivings because of the supposed separation of church and state. Won't some non-Christian ratepayers feel uncomfortable visiting it on diocese land?)
But the angular, monolithic Mountain Fountain is relatively unusual in Stringer's oeuvre - most of his sculptures are curved, almost elastic, and figurative, such as The World Grasped in Newmarket. They are consciously beautiful, riffing on visual symbols from Greek myth and Christian religion, with titles referring to "poets" and "truth".
I might enjoy a discussion with Stringer about what those things mean or whether they exist, but what I particularly appreciate about his work is that it fully uses all of sculpture's three dimensions. Unlike sculptures treated as paintings, there are few obvious backs or fronts to Stringer's work.
Instead, viewing his pieces from different angles reveals different images - as you walk around a work, a face might turn into a rosebud, then into a hand.
Instead of irony, there is a playfulness sometimes bordering on kitsch in these images, simultaneously out in the open and "hidden". It is no surprise that Stringer collects historical toys and articulated (pop-up) books.
Secrets here are thoughtful but they are not dark; they're amusing, joyful, fun to find.
In the old cattle yard at Zealandia, in Private View, you can look through Mary's halo from above and see a face created from the folds of her dress and her pregnant belly. Absent Friends creates another face out of negative space. At least, that's the idea; the garden's tour guide (and organist and Stringer's partner) Tim McWhannell can't see it, so Stringer drew him a picture of what to look for, to show visitors.
It fitted perfectly into McWhannell's top pocket until, alas, it was accidentally thrown into the wash.
Zealandia is full of what McWhannell calls "Terry's little tricks and toys and things", and it's a fitting setting for the work of Stringer and several colleagues, including McWhannell's brother Richard.
White walls hide the 1.5ha secret garden from the road, and the garden only reveals itself to you as you walk through it. The wide sloping lawn, as well-kempt as Stringer's beard, is dominated by an "exploded" building with a central tower pushing through a lower jumble of surfaces - part phoenix myth, part Mountain Fountain.
Inside the building, designed by Pip Cheshire with input from Stringer, moveable walls hide a secret-within-a-secret, a creation-themed dining room.
"Studios can get silted up with older work," says Stringer.
Visit Zealandia sculpture garden
Open weekends 10am-4pm until end of March. $10 entry; under-15s free