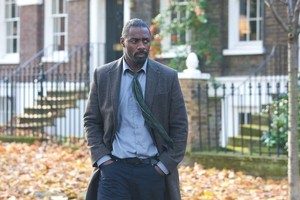 For fans of that great American crime series The Wire, the character of Russell "Stringer" Bell was one of the reasons the drug war drama was so addictive.
He was the man with the plan, the dealer with a mind for business and an exit strategy, and it almost worked out for him. And like the Baltimore-set show's lead cop Jimmy McNulty (Dominic West), he was payed by a Brit, Idris Elba. The series has been a springboard for the Atlantic-hopping actor who's also been briefly in the US version of The Office and a few little-seen movies - he also features in Kenneth Branagh's forthcoming superhero movie Thor later in the year.
But now Elba has a second touchstone role in a crime series, as the title character of the BBC's Luther. He's a brilliant but self-destructive and unorthodox Chief Detective Inspector who acquires as a tormentor, a murderer he can't arrest. Which isn't exactly helping him put his marriage back together, the relationship having crumbled under the emotional weight of a previous case which left its prime suspect in a coma.
The show might be BBC but it's delivered with a post-Spooks fast-cut energy (its writer is Wellington based Englishman Neil Cross who also penned the spy series) though the episodes aren't done as a whodunnit, more a how-will-he-figure-it-out?
"There is plenty of tension just watching Luther's mind work." says Elba. "He is an intense fellow. My character does his own thing throughout, but you as an audience will sit there thinking: 'Should he be breaking the law to get there?' It puts the audience in a unique position. My character has something of the fantastical about him, he wants to solve the crime at any costs - he's like a superhero and he never changes his clothes."
LOWDOWN
What: Luther
Where and when: Sunday February 6, UKTV, 8.30pm
Who it's for: Fans of The Wire, Prime Suspect, Cracker, Wallander
-TimeOut