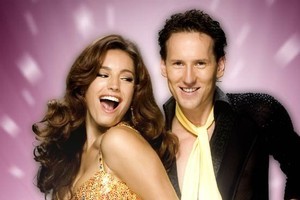 He may have a penchant for spandex tops and tight-fitting pants, but ballroom dancer Brendan Cole told Britain's Daily Mail last week that it was tough growing up in a working-class area of Christchurch.
"A boy dancer growing up in New Zealand wasn't easy," he said. "I got a lot of stick, but I also liked the attention so I'd go and find it. I don't think I was ever a popular kid at school. When you're six or seven and someone calls you a girl you learn to stick up for yourself. You fight your whole life to say, 'Actually, I'm not gay'."
He's fighting no more. Now the 34-year-old Kiwi, who stars on UK reality TV show Strictly Come Dancing, is focussed on making his marriage work to former model Zoe Hobbs. The pair live in Oxfordshire.
"I try to make sure I don't do anything that would embarrass Zoe. She's my future... Emotionally, we all go through good times and tough times. But the amazing thing about being married is having someone there to share them with. Nothing else matters quite as much."
Except perhaps making money. "I want to make money. I want to be successful," Cole said. Dancers on the show, on which Hayley Holt made a brief appearance, are said to make a fraction of what their celebrity partners make. It's long been a sore point for the house dancers like Cole, who would only say on the topic: "Is anyone ever happy with the amount of money they earn?"
Octogenarian host Bruce Forsyth, 82, who pockets £550,000 (NZ$ 1,158,229) for hosting Strictly, no doubt is.
Waiheke wedding bells
Former Dancing with the Stars face Stefano Olivieri, 32, tied the knot with his civil union partner Steve Nixon, 24, on Saturday in an intimate ceremony in the courtyard of Waiheke Island's Estate resort in Church Bay.
The dancer and the Sydney bank manager met at a nightclub. "I paid no attention to him," Nixon told the Woman's Weekly last year. "He chased me around for about six hours - and it worked. Our first date lasted five days."
Spy understands around 100 guests were invited to the wedding which took place under a marquee. Former dancing partners Suzanne Paul, Temepara George, Geraldine Brophy and good friends Barbara Kendall and Candy Lane were expected to be attending. Details of the nuptials were hush-hush. The pair have sold their story to a woman's mag.
Brent Impey's big comeback
He may have been rolled from the company after a decade at the helm as chief executive, but Brent Impey is back at MediaWorks. Starting today he will temporarily take the reins of RadioLive's drive-time show (following Maggie Barry's departure to pursue politics) and insiders are pinning their hopes he will transform the fledgling station.
Impey's two-hour daily radio show will include a variety of correspondents from an opinionated political panel to more light-hearted entertainment, such as Hollywood news with Jay-Jay Feeney, celebrity gossip with yours truly, music with Ande Macpherson and Westie culture with former league legend Dean Lonergan.
Speculation is rife in the media industry that Impey's return may herald him buying back the company from struggling Ironbridge. But the man who reportedly made $3 million from the sale categorically denies he's interested in going back into company management.
Two years ago at the time of his departure he prophetically told the Herald on Sunday's Deborah Coddington (who will join Impey's political panel) he wouldn't go back to media management. "If I went back I'd go back behind the microphone in preference to senior management."
Impey's move back to RadioWorks is not the only change in the company this week. His RadioLive boss Jana Rangooni now holds the title general manager talk radio, while Andrew Szusterman fills her shoes as group programming manager - music.
More FM's programming director, Rodger Clamp, has evidently been demoted, following the drop in the station's ratings, and now holds the title talent coach. He will be replaced by George FM's Ande Macpherson.