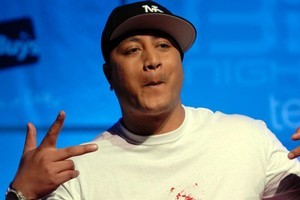 It must be dreadful to have real creative talent and a burning passion to express yourself through that talent. Whether you're a writer, an artist, an actor or a musician - the blessings of talent and ambition are more like curses in this country.
A Christchurch pawnbroker has put five awards won by rapper Scribe up for auction on Trade Me after holding on to them for more than two years, waiting for the musician to come back and redeem them after he used them as security for loans.
The pawnbroker, known as Shane, has 11 of Scribe's awards - which were presented after his album The Crusader went platinum many times over when it was released in 2003.
Shane said he'd tried to contact Scribe to let him know he was selling the awards in an attempt to get his money back but he's had no reply from the musician.
Scribe may simply have no interest or use for the awards but it's a sad story nonetheless.
Many brilliant musicians provide the score to the most important moments of our lives. We fall in love to their sounds; we party on through the night (all together now - "Drink yourself more bliss!")
Years later, when we've forgotten our mother's birthday, we can still remember every lyric of our favourite Kiwi song.
And yet these men and women, for the most part, rise through the ranks, blaze a trail, soar through the firmament and then must come tumbling back down to earth if they want to buy a house, maintain a family and provide for their old age.
The same is true for writers - the bog-standard royalty is 10 per cent of the cover price of a book. Most New Zealand writers are unable to make a living from doing what they do best and must save writing for when the day job has finished - working through to the wee small hours and juggling the demands of family life as well.
In the June 2010 quarter, Statistics New Zealand reported that those working in the arts, recreation and other services were paid a median wage of $18.75 an hour.
Not nearly enough to live the glittering life of a star of stage and screen.
The Irish, who regard their artists as the Gaelic version of taonga, introduced a scheme in the late 1960s whereby no artist had to pay income tax on their earnings.
That meant that, along with the struggling writer, the lads from U2 were able to keep every last euro of their enormous earnings and so in 2006 the level of earnings before tax was capped at €250,000.
Most artists can only dream of those numbers - more than half of the Irish beneficiaries of the tax relief scheme have average earnings of less than half of the average wage.
I'd love to see something similar happen here with tax, or have money set aside and ring-fenced for artists whenever we buy their music, their books, their art or buy a ticket to their plays or films.
The money could be invested and returned to the artists further down the track - a kind of cultural KiwiSaver - hopefully preventing trips to pawnbrokers and a tangible way of saying thanks for the memories.