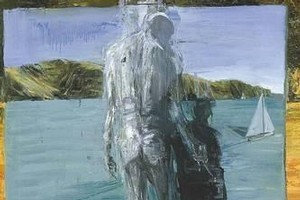 Euan Macleod: The Painter In The Painting by Gregory O'Brien
Piper Press $89.99
The painting on the cover tells a good deal of the story. It shows a grey/white, naked, artist-figure - palpable but ghostly, back-on to the viewer - working on a large painting of sky, hills and blue-green sea (Lyttelton Harbour, as we discover). A yacht with triangular white sails is tracking across the otherwise empty harbour. This painting-within-a-painting on which the dark shadow of the naked painter falls takes up about half the space. In wide strips above and below and on both sides of the picture, the landscape within which the artist is painting is visible but has nothing to do with the scene in the picture.
It is a rugged landscape of desert and high bluffs painted in the vivid oranges, ochres and browns of the Australian outback. The disjunction between picture and "plein air" setting and the oddity of the naked painter - as elongated as a Giacometti sculpture - make for a striking composition.
As Gregory O'Brien makes clear in his lively and searching text, much of Euan Macleod's painterly project is synthesised in this picture, especially its defining transtasman aspect.
Macleod was Christchurch-born (in 1956) and trained, but moved to Sydney in 1981 where he has lived since, although with frequent trips back to New Zealand, including a three-month residency at the University of Canterbury in 1994. A breakthrough in Australia came with his winning the Archibald Prize for portraiture with Self-portrait: head like a hole in 1999.
O'Brien teases out the rich connotations of Macleod's resonant and many-layered pictures. Childhood memories figure prominently, especially of his boat-building, yachtsman father who introduced him to the Lyttelton Harbour landscape. His most characteristic pieces feature the figure in the landscape. Often, but not always, the figure is the painter himself - generally naked, striding purposefully, wading through water, crouched over canvases.
As one of the few painters to maintain a successful cross-Tasman career, Mcleod is an exemplary figure, fully worthy of this large-format, richly illustrated monograph.
Alan Miller - New Zealand Photographs Essay by Martin Edmond, interview by Kriselle Baker
Anglesea House $70
This is Alan Miller's first book but the photographer is in his 60s and has been photographing for at least 30 years. In some ways, he seems to be a somewhat old-fashioned practitioner, with his preference for film over digital, and his commitment (at least in this collection) to black and white images of landscape.
In his conversation with Kriselle Baker, the names he mentions are those of poets (Baxter, Tuwhare) and painters (McCahon), while the photographers he mentions also belong to an earlier era.
He speaks of wanting his images to be "poetic" and likes McCahon's notion of the "landscape with too few lovers". There is love and poetry aplenty in this book. Some images are directly reminiscent of McCahon, such as one which references the Necessary Protection series, or others which revisit favourite McCahon landscapes such as Muriwai Beach.
He is particularly strong at manipulating figure/ground relationships, as in the haunting cover image of the upper body of a white horse viewed against a grey sky, or a striking close-up of a black tree trunk against the white snows of Mt Ngauruhoe. Some of the best images are of random patterns - saw marks on a log, rubbish on a street - all of which signify a refined eye and skill in the darkroom.
Martin Edmond's accompanying essay, "Seeing Forever", is, unusually for him, rather opaque, although a careful reading shows he has looked at the images closely. Baker's conversation with the artist provides welcome information about his ideas. The images, however, speak for themselves. Most are exceptionally powerful and refined.
A generous sized, well-designed hardback, this is a book to treasure, and Alan Miller is a talent to watch for.
Alan Pearson: Expressionist Portraits by Alison Pearson
Alexandra Stewart Press $125
This huge book, running to almost 400 pages, reproduces nearly 300 images of Alan Pearson's portraits ranging from 1961 to 2010. Although one of the largest books on a New Zealand painter ever published, it covers only a portion of Pearson's work (the portraits) - he also paints landscapes and abstracts.
Pearson was born in England in 1929 and emigrated to New Zealand (after a spell in Australia) in 1954. He trained at the Canterbury School of Art and spent much of his career in Canterbury, interspersed with periods in Auckland, the West Coast, England, Italy and (most recently) Australia. He was strongly supported, through directors such as TL Rodney Wilson and curator Neil Roberts, and by Christchurch's McDougall Gallery, which gave him a retrospective exhibition in 1999.
Christchurch Art Gallery holds much the largest collection of his work (some 50 items). He also exhibits often in Auckland and became well-known when his Huia Couple and Portrait of Mrs Oliver won National Bank Portrait Prizes in 1978 and 1979.
Pearson once told an interviewer: "The aim, and the art, of the portraitist is not merely to produce a likeness but to reveal the mind and the being behind the human face ... I look for the moment below the public mask ... that conceals their innermost selves from view."
This psychological emphasis governs his freely expressive and gestural use of paint, his intense and often non-naturalistic colour, and his placement of figures within settings, abstract and figurative, which help define their inner being.
His subjects include his wives, children, close friends, fellow artists, and, above all, himself. Self-portraits at every age include some of his finest works, such as a 1972 example in which the blue-faced subject in yellow singlet is depicted against a violent red and yellow background - colours conveying emotional states such as anxiety and insecurity - or Huia Self-Portrait (1978) - the jacket image - where there is complex interplay between the figure and its lush bush setting.
There are many tender portraits of women and his children. Four portraits of Deidre (1972-74) describe movingly the parabola of a relationship. Depictions of his wife, Alison - who also provides an informative text - are also notable for their range and empathy.
This huge and well-presented book is a monument to the artist's towering self-belief - a cry for recognition that should not go unheard.