Rating: 4/5
Verdict: A knockout.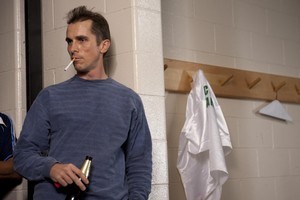 Christian Bale took the Golden Globe for best supporting actor (drama) for his role in this deeply enjoyable boxing drama, and must be a shoo-in for the Oscar, too. But he's no support act: this is his film from start to finish.
His is the first face we see and the last voice we hear and it's his buzzy, restless energy that runs through every minute in between. Wahlberg has the title role in the "true" story of Micky "Irish" Ward, the one-time welterweight champion of the world. But as his half-brother, Dicky Eklund, Bale delivers all the film's knockout punches.
When we first meet him, we wonder if he's an undermedicated psychotic or has been brain-damaged in the ring. The truth, as we slowly learn, is much worse, yet Bale's mesmerising performance never demands our sympathy: lost and goofy, scared of his mother, he recalls a slightly tragic Chaplin, but he's light on his feet and in his gaunt frame there still beats the heart of a fighter.
Eight years Micky's senior, he's living on past glory - his claim that he once knocked down Sugar Ray Leonard is a running gag that slowly turns sour in the mouth - but his life has gone badly off the rails in ways we only slowly begin to learn about.
It sounds like the stuff of corny cliche and there's no doubt that the narrative follows a predictably redemptive arc, particularly in the slightly limp final reel. But it's so drenched in its sense of place, so packed with incident and character that it easily transcends the limitations of its genre.
It's filmed mostly on location in Lowell, Massachussetts, one of those Rust Belt-edge cities corroded by globalisation, and as Russell's camera tracks the half-deserted streets you can almost smell the despair beneath the too-cheery greetings. (There's another camera there, too, making a documentary about Dicky, but it will be a long time before he, and we, realise what the angle is).
But beyond the setting, the terrific script abounds in glancingly observant touches. When Micky first goes out with Charley (Adams), a barmaid he fancies, she mentions an old room-mate. "You were in the army?" he asks, surprised; "No, college," she says. The moment is over almost before it begins, but it sketches in another line of character - and, not incidentally, foreshadows one of the film's major conflicts - with the effortlessness of a calligrapher.
Energetic camerawork, revealingly close to faces, keeps us in the middle of things and the rest of the cast rises to Bale's challenge: a muscled Wahlberg brings curiosity and integrity to Micky; the wonderful Leo (Frozen River) is a knockout as the hard-nosed matriarch of a huge and toxically close-knit family; and Adams has a real fire in her eyes as she shrugs off her goody-girl image to find real depths in Charley.
The film has more than the requisite amount of thrills on the canvas, but it excels as a potent human drama. Highly recommended even if boxing turns your stomach.
Cast: Mark Wahlberg, Christian Bale, Amy Adams, Melissa Leo
Director: David O Russell
Running time: 115 mins
Rating: R16 (violence, offensive language, drug use and sex scenes)
- TimeOut