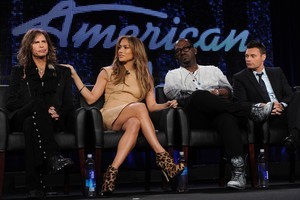 Now that Simon Cowell has gone, nobody is ready to claim the villain's role on American Idol.
New judges Jennifer Lopez and Steven Tyler say that they're looking forward to using their experience to help guide new artists. The series is set to start its 10th season on New Zealand screens tomorrow - a few hours after its US broadcast - with only Randy Jackson left from the original cast of judges.
The judges have been candid as they've filmed early rounds of the contest, Lopez said. "We're very spontaneous with how we critique each and every person who walks in. We're very honest and in the moment."
Executive producer Nigel Lythgoe says the new season of American Idol will be more about searching for an eventual winner of the show, "rather than stopping people getting there".
Jackson, known on Idol for his fondness for the word "dawg", said fans will see "a more assertive dog, a little bit more 'hair of the dog"'.
Producers and host Ryan Seacrest promised a more fun ride. "There's a genuine camaraderie with this group," says Seacrest
Asked about the lack of a major recording star emerging from the last few seasons, the judges say the problem wasn't in the singers, but the records they've released. Lee DeWyze won last year's contest, with Kris Allen the audience's choice the season before, and neither has approached the success of past winners Kelly Clarkson or Carrie Underwood. "If you make a great record, the public will buy it," Jackson says.
Adds Seacrest: "This is the greatest springboard out there, but you still have to find a record that works."
Jimmy Iovine, head of the Interscope Geffen and A&M label that will record the winner, says he's been involved with the show from the start and wants to ensure the new Idol represents an "original voice". Singing in the style of an established artist is "not particularly attractive to a record company", says Iovine, who was described by Fox as the show's "in-house mentor".
LOWDOWN
When: Friday 8.30pm and Saturday 7.30pm
Where: TV2
What: The post-Cowell season
-TimeOut / AP