Who: Foals
When and where: Laneway Festival, Aotea Square, Jan 31, 9.25pm
Essential albums: Antidotes (2008), Total Life Forever (2010)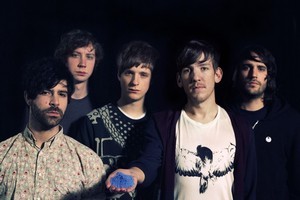 The gentle tickles and eye-watering suspense of Foals' track Spanish Sahara is not what one would expect to hear from a dance group, but the band has greatly evolved since it formed in Oxford in 2005.
Back then they played their rowdy techno-like tracks at house parties, recalls lead singer Yannis Philippakis.
"We wanted to play music that was fun. There was a cultural zeitgeist at that time, it felt like that was the way."
Philippakis describes his home in Southeast England as an unlikely breeding ground for cutting-edge musicians, but it has worked for them.
"It's small, and very old. In winter it's pretty atmospheric, you feel like you're in some sort of fantasy novel. Within the university there's no real music scene. It's not very hip, there's not much to do. But I like it, we like it. It doesn't feel like you belong to anything else in Oxford, there's not like a shitload of bands who are really competitive and social climbers. It's refreshing."
The five-piece write music together, eat together, read together and play together because they decided early on that they should all live under the same roof. It's not something Philippakis would recommend for all bands but he says works for them.
"It allows us to keep fresh, and creative and not really worry about things - like Never Never Land."
Philippakis says he doesn't like to explain his music in black and white - for instance he wouldn't want to dismember his songs for a quick interview or reveal what experiences inspired them.
"We just have to follow our steam and make the music that feels right," he says.
Under that mantra, their previous album Antidotes saw them established by yell-along bouncy hits Cassius and French Open, while this year's release Total Life Forever is built on tingling ambience
Philippakis believes the variety makes them a better live band as they are able to build their set list around natural ebbs and flows.
"There's more depth to it. We still play a lot of the old songs but it's easier to carve the set. Before it was one-dimension, or had one gear. We can do more now - there are more gears to it. I hope we will continue to do that if we have a third record."
Shivering in the rain in a carpark in France, Philippakis says he is looking forward to the Laneway festival circuit, which will united Foals with bands they hold in very high regard.
"Yeasayer, we have played with a bunch of times, we really like them. Ariel Pink's record is our favourite of the year so we are really excited about getting to see him play. I think it's a really amazing line-up - we are really stoked to be on it."