Do No Harm by Carol Topolski
Fig Tree, $40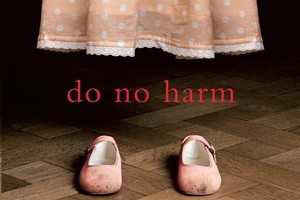 The term "psychological thriller" has been bandied about often enough to be almost meaningless by now, but this book actually stands up to the description.
Author Carol Topolski is a psychoanalytic psychotherapist, so she knows how to twist the minds of her characters. In Do No Harm she has created the strikingly believable and creepy Dr Virginia Denham, a brilliant obstetrician, solid and respectable, who appears to live a blameless life of hard work and total dedication to her patients.
No one knows about Virginia's loveless childhood or her destructive imaginary friend Ruby, who has followed her into adulthood. No one sees the weird eating disorder that has her in its grip. And, most importantly, not a soul guesses that the model surgeon has a bizarre fascination with knives, or can begin to understand the way she lives behind her own front door.
Topolski chills the reader slowly as she reveals Virginia's weirdness. She shows how circumstances and other people's bad choices have herded her towards disaster.
There are chances of salvation along the way - like new mum Gilda who senses Virginia's sado-masochistic urges and tries to channel it in a safer direction. And there are people who might have offered the lonely, isolated woman help and friendship. But Virginia is hard-wired to reject them. And when she discovers the secret daughter who is loved unreservedly by her mother, there is no hope of her mind not breaking entirely.
This isn't your classic fast, one-note thriller. Topolski is fascinated by the inner workings of her characters but the plot detours too much and too often for the pace to really crack along. We venture back to the war years of Virginia's father, for instance, to see what makes him tick, witness her mother's coldness and her love affair with the family doctor, and see the impact it had on Virginia as a child.
Topolski is interested in exploring the details of how a monster is created rather than keeping her readers skidding though the pages.
Do No Harm is about the line between good and evil, how easily it is crossed, and how the potential for both exists within us all. The story of a good doctor going bad is possibly more psychological than it is thriller - the characters are complex, the structure a bit scattered at times - but it's still haunting and compelling.
Above all, it seems frighteningly plausible.