Shortland Street welcomes a new face this year, but it's one New Zealand audiences have seen many times before. Jacqueline Smith talks to the Street's latest recruit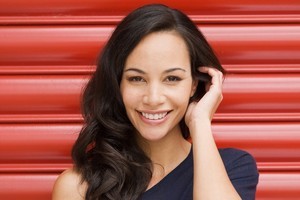 Shavaughn Ruakere is not known for choosing comfort over style.
In fact, she turns up to Shortland Street's Henderson studios for a rehearsal wearing chunky heels and a cute little dress from Topshop.
But in her new role on the iconic soap, the willowy television personality will commit the ultimate fashion crime: donning baggy lilac scrubs and rubber Crocs shoes. Et voila: the model-esque socialite has transformed into an unassuming nurse named Roimata Ngata.
Some might say it's surprising that Ruakere has come as far as she has on the New Zealand TV circuit without ever being on Shortland Street.
But after starting out as a children's TV presenter on What Now in 1997 she's appeared in various television hosting jobs as well as a breakfast slot on Mai FM and more recently boosted her profile by presenting C4's Top 40 music charts.
In between, she was regularly snapped at red carpet awards events and clinking champagne at product launches.
But two years ago, she decided it was time for a change so left C4 and started hitting the acting circuit.
"I've always been a presenter, and have always loved doing that and it's only been in the last sort of year and a half that I really went 'Acting's what I want to do'," she says.
She says after "blink and you miss it" roles on films and television, her full-time role on Shortland Street feels like she has finally cracked it. "I feel I can finally call myself an actor, this is the first time it feels proper," she says.
Most of her screen acting work has been playing "silly buggers", such as dressing up as a grandmother and a man and almost every other character you can imagine for What Now's skits.
Once she pretended to be a nurse for a What Now Shortland Street special, which featured then Shortland Street star Claire Chitham as a special guest.
That was more than a decade ago, and Ruakere hasn't put on a nursing outfit for acting purposes since. She admits to not being entirely impressed with Roimata's wardrobe when she took the role.
"When you first hear you're going to be a nurse you think you're going to be wearing a cute little nurse's dress. But no. You're wearing these lilac numbers, and we have Crocs on our feet. I'm quite used to it now and the good thing is that it is really comfortable. I have been wearing Crocs a lot and I am actually quite used to them now."
Ruakere's mother is a retired nurse, so she says that as a child she briefly entertained the idea of becoming one herself.
She doesn't retch at the thought of blood and guts, and has already filmed scenes in the emergency department that required her to carry out some pseudo-nursing with the help of the on-set nurse.
She hopes her mother will approve of her technique when she watches the show.
Though her presenting work has definitely helped her learn her lines and understand the studio environment, Ruakere says she has found that performing as herself and playing someone else are very different beasts.
"You just have to remind yourself of the things about your character that aren't like you. There are some similarities between Roimata and myself. She's a nice person, a good character and kind, and I hope I'm those things. She doesn't want to step on anyone's toes and is very affable but then she's got some other things going on, especially in her past, that I don't really know about that I have to remind myself of when I'm playing it."
Roimata has grown up in the shadow of her father, a famous paediatrician who changed the face of health care for Maori children in rural areas of New Zealand in the 1980s.
She has been working in rural communities close to her family and her move to Ferndale is a way of freeing herself from the shackles of her past.
Roimata's father is played by George Henare, who joins the cast in March.
It turns out Ruakere's family are good friends with Henare, so she was pleased to have something in common with the revered actor when she rehearsed with him for the first time on Monday.
Working with the actors, and standing in the sets she has watched on television for years is very exciting, she says.
"I always love seeing sets in real life. You walk in and are like 'Oh my goodness I'm in ED or the lift'."
She's getting used to the long days in the studio, followed by nights on the couch learning lines. Will the busy Shortland Street lifestyle see her slip from social scene ubiquity? Will the show's gain be the gossip pages' loss?
"I've started staying home more as I'm getting older anyway," she laughs. "And there's a lot of work to be done here."
LOWDOWN
Who: Shavaughn Ruakere
What: Plays nurse Roimata Ngatai in Shortland Street
When: Next Wednesday, January 26
-TimeOut