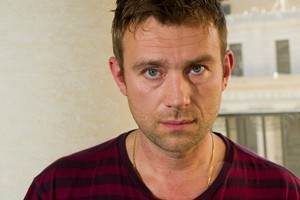 Rating: 3.5/5
Verdict: Gorillaz' swansong that doubles as a Damon Albarn solo album
It's like a bunch of musical doodlings. Recorded on Gorillaz leader Damon Albarn's iPad during October and November last year while the cartoon band and their vast contingent of star guests were on tour in America, The Fall has some magical moments along with songs that seem unfinished and peter out.
But Albarn gets away with it because, firstly, it's free (which admittedly is not particularly special these days), it's also done on an iPad in hotel rooms (also not particularly special considering the minimal technology you need to make music now), but mostly because it's the Gorillaz' brilliantly simple, no fuss, take it or leave it swansong.
Revolving Doors is a delightful highlight that jaunts and shuffles dreamily along as Albarn sits in a diner "Where the Beatles play"; he gets his Motor City groove on during Detroit, a Gorillaz-style homage to the city's techno scene; and there's an old-worldy easy-going charm to Aspen Forest.
But of the tracks that sound unfinished the biggest shame is the nicely titled California and the Slipping Sun that heats up slowly with Blade Runner atmospherics and surging strings into a boppy pulse of electro-meets-techno beats but ends abruptly, giving way to the fruity yodelling outro of Seattle Yodel.
The noisy clamour of The Joplin Spider and the brassy bursts and tremolo ebbs and flows of The Snake in Dallas adds some badly needed stealth and venom to the album because at times it meanders along in that dreamy, melancholic Gorillaz state for too long.
Not that that's a bad thing because it's often when Albarn is at his best, like on Little Pink Plastic Bags, a wafting and whimsical dream song; and the gentle lilt of Amarillo is among the most beautiful songs he's recorded.
Sadly though, it's not as animated and cheeky as the band's past three albums in that the music doesn't glow with the personalities of virtual band members like bad boy bass player Murdoc and singer 2D. In fact, even though Bobby Womack sings on Bobby in Phoenix and former Clash members Paul Simonon and Mick Jones also make small contributions, it's more like a Damon Albarn solo album than anything. But it's still accomplished and clever, so download it and give it a listen.
-TimeOut