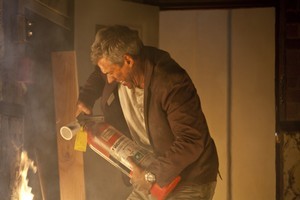 Shortland Street picks itself up from the beach this week and returns to the cliffhanger plot that rocked screens just before Christmas.
Audiences were left teetering after a fire licked the set and threatened the lives of five characters in Ferndale.
In the lead-up to the cliffhanger episode, Rachel McKenna (Angela Bloomfield) and her long-time flame, Chris Warner (Michael Galvin), found themselves entwined in the bedsheets once again. Young Evan Cooper (Tyler Read) had turned on his family and taken up residence in an empty building and Tracey (Sarah Thomson) was helping her fiance, Scotty (Kiel McNaughton), try to work through his psychological issues just days before their wedding.
The show closed for the summer break with Scotty believing his nemesis had taken the form of Tracey, then attacking her. Meanwhile Rachel decided to admit her infidelity to partner Callum McKay (Peter Mochrie) and declare her love for Chris once and for all. Rachel and Callum met at the building they had intended to lease as apartments - where Evan was squatting.
As their conversation became heated, Evan attempted a hasty exit, but ended up tripping on the stairs and knocking himself out, his cigarette hitting his backpack and causing an enormous explosion. Callum was forced to put his conversation with Rachel behind him and play the hero. But when the episode wrapped, Callum, Rachel, Chris, Evan and Tracey had their lives on the line.
Shortland Street's producer, Steven Zanoski, says the flames destroyed the set and it was fortunate the show took a break so that designers could restore it in time for this year's episodes. Zanoski believes this year's launch is a return to classic cliffhanger storytelling and the ripple effects will be felt for a while yet. He reveals there will be some major changes on the street, including the loss of one cast member and the introduction of two new hospital staff members, played by Shavaughn Ruakere and Natalie Medlock (Diplomatic Immunity).
LOWDOWN
When: Monday, 7pm
Where: TV2
What: Heated moments in Ferndale
-TimeOut