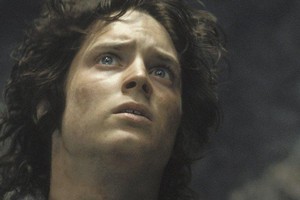 Actor Elijah Wood is set to revisit his role as Frodo in Sir Peter Jackson's movies of The Hobbit, despite his character not featuring in the book by JRR Tolkien.
Frodo is expected to open the movie, possibly reading a book about Bilbo's adventures, on which the story is based.
Wood was confirmed by his agents as starring in The Hobbit, and Lord of the Rings website TheOneRing.net gave some details about his role.
Jackson has signed Martin Freeman to play Bilbo Baggins, and Cate Blanchett and Orlando Bloom to reprise their roles as the elves Galadriel and Legolas.
In Lord of The Rings movies Bilbo Baggins was played by Ian Holm.
The two Hobbit films are set to begin production in New Zealand next month using visual effects filmed in digital 3-D. The first movie is due for release in December 2012, and the second a year later.
Jackson, who directed the three Lord of the Rings films, will helm the two films back-to-back using screenplays he has written with Fran Walsh, Philippa Boyens and Guillermo del Toro.
Last week, film studio Warner Bros said it had tied up the international rights to cinema and video distribution of the US$500 million ($660m) adaptation.
Warner Bros will handle the bulk of worldwide distribution, MGM will handle international television licensing for the films and the two companies will coordinate marketing and release plans worldwide.
Financial difficulties at MGM contributed to significant delays to the project, and were resolved late last year.
- NZPA