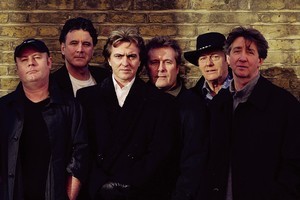 Last year, the Hollies were inducted into the Rock and Roll Hall of Fame - and it seemed long overdue.
For a decade from 1964, starting with Just One Look (number two in Britain) through I'm Alive, Look Through Any Window, Bus Stop, Stop Stop Stop and He Ain't Heavy then on to Long Cool Woman in a Black Dress and The Air That I Breathe, the Manchester band were coining close-harmony hits which, during the 60s, challenged their Parlophone labelmates the Beatles on the charts.
The five-piece were part of the British Invasion of America in the mid-60s, increasingly wrote their own material and - outside of the singles - their albums Evolution and Butterfly in 67 brought in the technicolour sound of slightly psychedelic pop.
Yet the Hollies who tour today - with original members Tony Hicks and Bobby Elliott - weren't at their own inauguration. Instead, they were represented by former members Graham Nash (who had quit in late 68 to live in America and join up with David Crosby and Stephen Stills), original vocalist Allan Clarke and some later members.
And although singer/guitarist Hicks - who wrote Too Young To Be Married, a number one hit in Australia and New Zealand in 1970 - says they're all still friends, it seems unusual the band that carries the name didn't attend.
"We were committed to a concert at the London Palladium," he says.
"I suppose we could have got out of it but we didn't want to let the people down - and it would have meant travelling to New York.
"But we knew Graham and Allan were going to be there to represent us. I haven't seen what went on but it was a great honour, especially when you [consider] the other people who have been inducted, like the Beatles, the Stones, the Who ... ."
What went on was a short reunion set with Steven Van Zandt of Springsteen's E Street Band joining in. Quite an event to have missed, but Hicks is unconcerned. He's still out on the road.
"We've just done 20 dates in England and they were sold out. We get a standing ovation every night because we give the audience what they want.
"Ninety per cent of what we do will be the hits that people are expecting and a couple will come from the latest CD. We threw them in and they were well received. And I think they will be in New Zealand - and if they aren't, then we will change it.
"We're doing a completely different version of Look Through Any Window and it's going down an absolute storm. We've thrown the chords around and there is a double guitar solo, where I bounce off our other guitarist, Steve Lauri, and the audience lap it up.
"We do that with a few songs, but obviously the classics like He Ain't Heavy and The Air That I Breathe we don't play around with. But that keeps it fresh for us."
Hicks and the Hollies have been on the road since those "Greyhound tours zigzagging across the States" in the mid-60s, where they shared stages with the likes of Little Richard (with the then-unknown Jimi Hendrix on guitar) and it was experiences there which prompted them to write their own material. Their first self-penned hit, Stop Stop Stop, was about a belly dancer and featured Hicks on a distinctive banjo part.
"That was written because were taken by our record company in New York to a Turkish restaurant with belly dancers. The general vibe of being on either the East or the West coast inspired us. On the West Coast we were hanging out with the Mamas and the Papas and the Byrds, and people like David Crosby - which is basically why Graham [Nash] left, he liked what was happening in America and wanted to be a part of it."
The Hollies' close harmony sound continued without Nash, but one of their biggest US hits didn't feature those memorable vocals.
"We had a number one with Long Cool Woman in a Black Dress. Ron Richards, our producer, had a good ear for hits but he didn't spot that and it was CBS which said they thought we had a shot with it.
"It was unusual for us, because it was a straight rock 'n' roll song, which took about half an hour to do.
'If Ron had spotted it he would have no doubt tried to get the harmonies in there, because we were the Hollies."
Hicks admits he is surprised by the rediscovery of their Evolution and Butterfly albums ("I can't get my head around it, but I accept what people say") and says after 45 years, "All we want to do is play the right venue for the right people and give everyone a great time. And we seem to be getting the hang of it."
LOWDOWN
Who: The Hollies
Where: Mills Reef Winery, Tauranga, Jan 29 & 30; Ascension Wine Estate, Matakana, Jan 31; Michael Fowler Centre, Wellington Wed Feb 2; Bowl of Brooklands, New Plymouth, Feb 6; Civic Theatre, Auckland, Feb 7.
-TimeOut