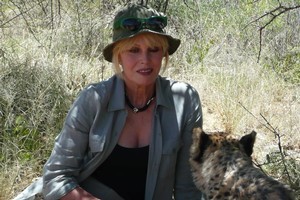 Joanna Lumley adds another string to her bow with this two-part series that examines people's relationships with cats.
Following on from her African adventure down the Nile, the former star of Absolutely Fabulous has reinvented herself as a Catwoman.
She told The Daily Telegraph the motivations for the programme were largely selfish.
"I do things where I'm passionate - you have to be in love with it," she says. She likes cats, and has one as a pet, but discovers on this documentary that she is less deserving of the Catwoman title than other feline enthusiasts around the world.
Throughout the series, Lumley takes this idea further to try to place human's relationships with cats in a wider context. She begins her journey at a cat show featuring nearly 100 breeds, then heads to Belgium where she joins in the excitement and colour of the world's biggest cat festival.
Later, she's back in Egypt, visiting Cairo - a city that is now ridden with alley cats but that used to mummify its cats to use as offerings to feline goddesses.
In Japan, Lumley learns about feline links to Buddhism, and she goes in search of a wild jaguar in Mexico's Mayan Jungle.
Lumley, who is 63 and has one son by the photographer Michael Claydon, says that what's exciting about making documentaries is going to extraordinary places and meeting unusual people.
"For TV you go to different things and you meet people you'd never otherwise have met," she says. "In my real, Joanna Lumley life, how would I otherwise have met Takako, the cat tailor of Japan?"
Cat tailors, as Lumley discovers when she visits a tiny flat in Tokyo, dress felines up - in this case as everything from frogs, to princesses, to mice and rabbits.
"Before I went to see her, I was really anxious actually because I hate ridiculing animals," Lumley tells The Telegraph.
"But think back to horses in the Middle Ages, when they had armour with pompoms. We've always decorated our animals. And Takako couldn't have loved her cats more."
The cat tailor illustrates one of many truths Lumley discovered while making this documentary: "The world's full of really barmy people."
Pick: Joanna Lumley - Catwoman
When: Sunday, 7.30pm
Where: TV One
What: A purrculiar fascination
-TimeOut