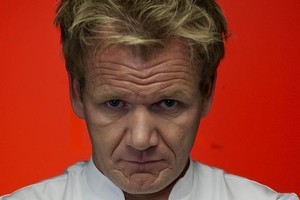 After a difficult period in which he has endured a public falling out with his in-laws, seen his restaurant empire falter and had his recipes voted among the unhealthiest in the world by doctors, Gordon Ramsay's looks might have seemed the least of his woes.
But pictures of the famously hot-tempered TV chef leaving a leading hair-treatment clinic in Los Angeles sporting a surgical cap appear to confirm that the 44-year-old has received further cosmetic intervention to enhance his on-screen appearance.
It was reported yesterday that Ramsay has had a £30,000 ($60,000) hair transplant. He has previously been said to have had his teeth whitened and - on the advice of Britain's Got Talent judge Simon Cowell - Botox injections to flatten out his crinkly chin.
Under the latest procedure, known as follicular unit extraction, it is claimed the Michelin-starred Ramsay has had patches of thriving hair removed from sites on the back of his head and inserted among the sparser regions higher up.
Viewers of his TV shows will most likely have been unaware of the Kitchen Nightmares star's anxieties.
But reports yesterday quoted a source as saying: "While his hair may not have been obviously receding, it had become an issue for him.
"Some will call it vanity but to TV producers and Gordon it's a pre-emptive action to stop him suddenly going on TV with obvious thinning."
Ramsay was dropped off by a limousine for his treatment at the Alvi Armani centre in Beverly Hills.
It is one of a global chain of clinics owned by transplant surgeon Dr Antonio Armani.
The Italian, who takes his inspiration from the anatomical sketches of Marcus Vitruvius and Leonardo Da Vinci, considers himself as much artist as technician, and insists his team of handpicked surgeons treat their patients like "their best friend or younger brother".
According to his website: "Dr Antonio Armani is attentive, understanding and very sensitive to his patients' needs.
"Throughout your consultation, preparations and final procedure, Dr Antonio Armani will do everything he can to make you feel comfortable and confident in your decision."
Follicular unit extraction is a procedure in which a surgeon uses a 1mm diameter punch to extract the healthy follicle from the scalp without causing damage before implanting it again elsewhere, allowing up to 6000 grafts in one day.
Follicles at the back of the head are less sensitive to the circulating male hormone which causes hair to thin and shorten.
Once moved, they continue to behave as if they are still alive.
Male-pattern baldness, of the sort believed to be affecting Ramsay, is a genetic condition and can sometimes leave one brother bald while another sports a full head of hair late into life.
It is estimated £2.3 billion is spent each year in the United States on treatments for hair loss.
Cosmetic hair surgery is available only privately in Britain.
Dr David Fenton, consultant dermatologist at St John's Institute of Dermatology, St Thomas' Hospital, London, said a successful procedure depended on two things - having enough hair at the back of the scalp, "and finding the best surgeon you can to get an undetectable result".
He sympathised with Ramsay's plight.
"You cannot underestimate the psychological impact on any person. It can be emotionally devastating."
- INDEPENDENT