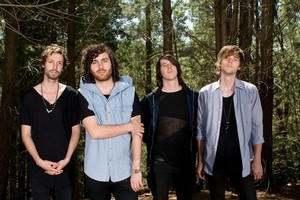 The annual pilgrimage to the musical mecca that is Rhythm and Vines gets under way in just a few days.
With about 25,000 expected to pack into the Waiohika Estate near Gisborne for the three-day event, it is one of New Zealand's largest festivals. It also has one of the hottest line-ups of the summer, with lots of newcomers and a few oldies but goodies.
Included in the latter category is Dragon. The Kiwi-Aussie rockers are festival veterans. Back in the late 1970s, when Marc and Todd Hunter headed the band, they were a prominent force at the famed Nambassa festivals near Waihi.
After numerous line-up changes and the death of lead singer Marc in 1997, Dragon seemed destined for the scrap heap, but in 2005 came a revival when they enlisted Kiwi singer Mark Williams. As a solo artist, Williams has had a string of hits over the years (including Yesterday Was Just The Beginning Of My Life in 1975) and slotted seamlessly into the legendary line-up.
The band has now spent the past five years gigging here and in Australia. For Williams, being asked to play at Rhythm and Vines is "like the cherry on top".
Williams laughs when he says the audience often sings louder than the band when they perform their classics, April Sun In Cuba and Are You Old Enough?
"You see the reaction on people's faces _ recognising songs and probably relating it to some part of their youth. It's a fantastic thing to watch."
At the other end of the scale, punters are spoiled for choice when it comes to contemporary acts. There's British rapper Tinie Tempah, German electro king Boys Noize and Australian "psychedelic, indie-electronic adventurers" Miami Horror.
Ben Plant, Miami Horror's frontman, says it is only his second time in New Zealand but he's heard nothing but good things about Rhythm and Vines. And he intends to help open the festival on December 29 with a bang.
"There's a lot of jam sections and there's a lot of disco in our set."
That's code for be prepared to dance!
Rhythm and Vines runs from Wednesday to Friday at the Waiohika Estate near Gisborne.