In preparation for next week's big night, TimeOut offers their top ten New Year's Eve events.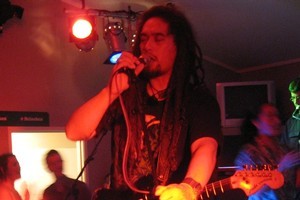 The Gunslingers Ball
While it might pay to leave your toy pistol at home - you could get arrested brandishing that around on K Rd, but by all means wear your chaps - this is the place to be for some rootsy country, blues and rock from the Situations, Heart Attack Alley, Bernie Griffen and the Grifters, Wildwood Lights, and more.
When: 8pm-late
Where: Whammy Bar and Wine Cellar, St Kevin's Arcade, 183 K Rd
Tickets: $15 on door ($10 with bCard)
Reggae nights
It's a reggae New Year's Eve with Raglan stalwarts Cornerstone Roots teaming up with Wellington's Hikoikoi for a show at the Mangawhai Tavern from 7pm; Sweet and Irie play Forge 2 in Papakura at 9pm; and Three Houses Down are at Icons Sports Bar and Cafe in New Plymouth at 8pm.
Tickets: Cornerstone Roots, $25 at venue and eventfinder.co.nz ($30 on door); Sweet and Irie $20 at eventfinder.co.nz ($25 on door); Three Houses Down $40 at eventfinder.co.nz ($40 on door).
Free fireworks
The best vantage points for Auckland Council's annual fireworks extravaganza, where hundreds of thousands of dollars worth of bangers and crackers will be let off from a barge in the harbour, are the CBD, Mt Eden, and Michael Joseph Savage Park (Bastion Point), or across the harbour at Bayswater, Stanley Point, or Devonport. They will be timed for the midnight countdown and synchronised with the fireworks at the Sky Tower.
Where: Queens Wharf
When: Midnight
Tickets: Free
Live at the Islands
As well as a series of shows in January, Urupukapuka Island near Russell also has the New Year's Eve Pirate Party with jolly rabble-rousers the Dirty Dozen covers band playing followed by an after-party into the early hours. And don't forget to dress up because there is treasure on offer for the best pirate costume.
When: 6pm-2am
Where: Urupukapuka Island, near Russell
More info: arkpresents.co.nz
Tickets: $30 at Ticketmaster
In the Pink: Pink Floyd Tribute Show
Not everyone's idea of a great New Year's Eve out, but we think seeing Pink Floyd - even if it is the tribute version - in the wilds of Hobbiton would be something to tell your friends about over a few cold ones when you get back from holiday. Like, what year is it, man?
When: 9pm
Where: Matamata Club, 7 Waharoa Rd East, Matamata
Rhythm and Vines
It's the biggest - and longest - New Year party of them all, but also one of the hardest to get to. But it will be worth the seven hour drive - or 14-hour hitchhike - when you get there, especially with Shihad and the Naked and Famous ringing in the New Year.
Where: Waiohika Estate, Gisborne
Tickets: $235 from rhythmandvines.co.nz
Swagger of Thieves
With Head Like a Hole, Luger Boa, Cairo Knife Fight and other rock 'n' roll cronies on the bill, this is going to one hot, sexy, lusty gig. Not to mention sweaty. Billed as a mini-festival, as well as hearing HLAH classics Fish Across Face and Comfortably Shagged, be there for Cairo whose self-titled EP was one of the releases of the year.
When: 3pm-late
Where: Kings Arms, France St, Newton
Tickets: $45 at eventfinder.co.nz and Real Groovy
Sale St New Year's Eve
Ensure you have a hearty breakfast and force down some lunch if you plan to go to Sale St's decadent, three-zone affair billed as "Celebrate in the sun and then under the stars". It starts at 2pm and plan on trying to figure out whose place you're going to continue the party at, at around 3am.
When: 2pm-3am
Where: 7 Sale St, Freemans Bay
Tickets: Free ($10 after 10pm)
SkyCity 2010
As well as the fireworks at midnight from the Sky Tower, there will be plenty more cracking good times to be had inside SkyCity with twentyone partying with perennial DJs Grant Marshall and Grant Kearney. The Deck is the realm of Top 40 chart hits, and at Sammy's Place get down to some classics.
When: 7pm-late
Where: SkyCity, various venues
Tickets: Free
Highlife New Year's Eve 2010
Stylish and oonst-driven is the best way to describe the high times expected at this annual party being held at fancy pants winery Stonyridge on Waiheke Island. With Junior Jack and Kid Creme from Belgium and Miguel Migs and Lisa Shaw from the US joining locals Nice 'n' Urlich, The Arc collective, Karn Hall and more, this is going to be one long, hands-in-the-air affair.
When: 2pm-4am
Where: Stonyridge Vineyard, Waiheke Island
Tickets: Sold out
-TimeOut