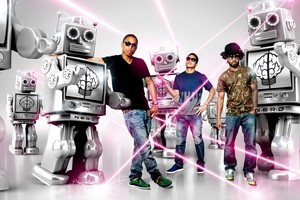 MOVIES
Not everything this week is meant to put you in the Christmas spirit. The final instalment of Stieg Larsson's tortuous tale, The Girl Who Kicked the Hornet's Nest for example.
The Swedish novel trilogy has capitivated audiences around the world and the lead character Lisbeth Salander has been likened to Sweden's mascot Pippi Longstocking.
The 3D pick has to be Gulliver's Travels starring Jack Black and Emily Blunt and for a laugh, there's Meet the Fockers take three. Angelina Jolie and Johnny Depp are the big names behind The Tourist, and the actress with the difficult surname Mia Wasikowska, who played Alice in this year's Alice in Wonderland, plays a teen with lesbian parents in indie comedy-drama The Kids Are All Right.
MUSIC
While it's busy on the roads and in the shopping malls it's a bit quiet on the gig front over the next couple of days, though most bars do have some sort of Christmas-themed thing going on, even if it's just DJs wearing Santa hats.
But in just three days' time the carols will make way for the pre-New Years Eve debauchery.
Matakana presents the ultimate silly-season wine-down experience with the wine, jazz and blues festival at Ascension Wine Estate on Wednesday which sounds lovely, but I'll be joining the queues to Gisborne for Rhythm and Vines to see Canadian beat boffins Chromeo and Pharrell Williams of N*E*R*D kick-start the three-day festival on Wednesday.
TV
Let's not forget that for many people, the holidays are a chance to rekindle their relationship with the couch. Networks offer many repeat episodes but also plenty of Christmas specials.
My picks of the week are 7 Days of Christmas (Christmas Eve, TV3) - more comedians on the bill and a whole year of news to fuel the banter. And as it's the season for a jolly good laugh, check out the new comedy series Rural Drift on TV2 that follows an Auckland guy up to his new home in the Hokianga where he aims to make a living from featherless chickens. Sounds attractive - the lifestyle, not the chickens.
Or...
Go and sing carols at your local church this Christmas Eve. Check the noticeboard for times as most have a family service as well as the midnight eucharist, or midnight mass depending on your beliefs. There's no better way to meet the neighbours and get in the Christmas spirit. And you can blame the person further down the pew for the tone-deaf attempt at the high notes in Silent Night.
-TimeOut