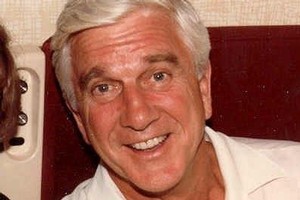 * CAPTAIN PHIL HARRIS: Crab fisherman and reality star (TV's Deadliest Catch) died on February 9 after suffering a stroke. He was 53.
* ALEXANDER McQUEEN: Outrageous British fashion designer committed suicide by hanging on February 10, just days after the death of his beloved mother. He was 40.
* COREY HAIM: Former child icon (The Lost Boys, License To Drive) who had a wildly self-destructive 20-year battle against drug addiction, died on March 10 of a drug overdose. He was 38.
* ROBERT CULP: Actor who co-starred with Bill Cosby in the 60s series I Spy and was the FBI agent handler in the 80s The Greatest American Hero died on March 28, after collapsing during a walk.
He was 79.
* PETER GRAVES: Star of TV's 70s series Mission: Impossible - and the pilot in the Flying High! 80s movie spoofs - died on March 14. He was 83.
* FESS PARKER: Best known for his TV portrayal of coonskinned cap-wearing Davy Crockett on TV in the mid-1950s, Parker died of natural causes on March 18, aged 85.
* CORIN REDGRAVE: English actor and left-wing political activist who portrayed Sir George Grey in NZ's epic historical TV drama, The Governor in 1976, died on April 6 after falling ill. He was 70.
* LYNN REDGRAVE: Oscar-nominated at 23 for 1966's Georgie Girl, American-based Redgrave died on May 2 after battling cancer for seven years. She was the younger sister of fellow Brit actors Corin and Vanessa Redgrave.
* LENA HORNE: Sultry actress and singer who blazed new ground for black women in Hollywood in films (Cabin In The Sky), died on May 9, aged 92.
* GARY COLEMAN: Diminutive former child star of 70s series Diff'rent Strokes died on May 28, aged 42, after a lifetime of illness stemming from childhood kidney disease.
* RUE McCLANAHAN: Best known for her portrayal of man-eater Blanche in the sitcom The Golden Girls, McClanahan died on June 3 from a cerebral haemorrhage, aged 76. Betty White is now the sole survivor from the cast.
* GLORIA STUART: Actress who was Oscar-nominated playing Kate Winslet's 100-year-old character Rose in the hit movie Titanic, died on September 26. She was 100.
* DENNIS HOPPER: The longtime Hollywood rebel and Easy Rider director - also a noted photographer - died on May 29, aged 74, after a long battle with prostate cancer.
* MIKE EDWARDS: The cellist and founder of 70s-80s rock band Electric Light Orchestra (ELO) was killed September 3 in a freak accident in which a wayward hay bale hit his van. He was 62.
* STEPHEN J. CANNELL: TV producer (and novelist) known for such popular 80s hits as The A-Team and 21 Jump Street died on September 30 after complications from melanoma. He was 69.
* NORMAN WISDOM: Slapstick British star died on October 4 after a series of strokes. He was 95.
* JILL CLAYBURGH: Actress best known for 70s movies as An Unmarried Woman and Starting Over but was also highly visible on TV (Ally McBeal's mum, Dirty Sexy Money) died of chronic leukaemia, aged 66.
* GRAHAM CROWDEN: Scottish actor who played Tom in the long-running sitcom Waiting For God, died October 17, aged 87.
* LESLIE NIELSEN: Deadpan star of such movie genre spoofs as Flying High!, The Naked Gun! and many more parodies, died November 28 after suffering from pneumonia. He was 84.