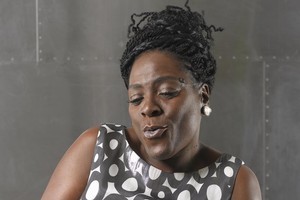 Sharon Jones is a big flirt. And her wild shimmying, funky-chicken and mashed-potato dance moves had her crowd whooping even before she pulled strapping lads from the audience on stage with her.
Jones has been on the scene for 30-odd years but the past decade has seen her and 10-piece band The Dap Kings (who played on Amy Winehouse's album Back to Black) really revive the blues and soul dance halls of 60s and 70s.
Their 2010 release I Learned the Hard Way was their darkest, rawest album yet and that set the tone for this tour.
Guitarist and emcee Binky Griptite made sure the sold-out Powerstation was well-rarked up before the leading lady strutted on stage.
He led the band in instrumental party starter The Reason which paved the way for two hours of fast and furious blues, funk and R&B that turned the Powerstation into a sweaty, slippery dance floor.
Jones, now 54, stalked across the stage in a pale blue flapper dress and proceeded to burn holes in her dance shoes with moves that seemed to defy the human body.
She is one fierce lady and she wasn't going to let her audience just stand around watching her go crazy. As if her tunes weren't enough to grab them by the ankles, she singled out seven ladies from the audience for dance off to 2007's I'm Not Gonna Cry.
The New Yorker could make a song out of anything, and most songs were bridged by Jones' freestyle rabble-rousing.
Little autobiographical stories accompanied roaring performances of She Ain't A Child No More, Money, Mama Don't Like My Man and an ad-libbed version of Without a Heart as well as the big numbers I Learned the Hard Way and 2007's 100 Days, 100 Nights.
The animated show was topped off by a special feature for the festive season, a true-to-life Christmas tale There Ain't No Chimneys in the Projects and an encore in which Jones commanded each member of the Dap Kings into a solo that pushed the bounds of their instrument and let her shake her tail feather. No one messes with Ms Jones.