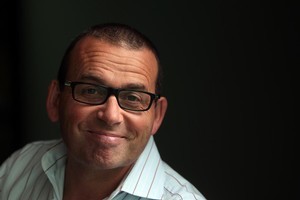 Furious at how New Zealand turned against him, this country's most controversial television star is looking to take his career overseas.
As news leaked on Wednesday that Petra Bagust and Corin Dann had been picked to front TVNZ's Breakfast, Paul Henry sat down with the Herald on Sunday to reveal his plans. But TVNZ wasn't far from his mind.
"If I was TVNZ," Henry says authoritatively, "I would be regretting the decision to dump me."
He picks his words carefully, refusing to elaborate further and mindful of speaking out against his former employer. He says he would never rule out going back to the state-owned broadcaster some day.
"I have huge respect for TVNZ and I hold Anthony Flannery and Rick Ellis in high regard. None of what's happened would prevent me, in my mind, going back to TVNZ."
Henry certainly retains a high profile in New Zealand, with Google's new Zeitgeist Report, published last week, revealing that more people searched the internet for Paul Henry than any other Kiwi.
But he says that while he is happy to keep the door open at TVNZ, he acknowledges a return is likely only if his first choice doesn't pan out.
Henry is being head-hunted by Hollywood television producers to star in his own television series about his life and the pursuit of a media career in America. "It's what they call a loosely scripted TV series," he says, "like The Kardashians."
American network producers contacted Henry within days of his public flagellation and dumping from Television New Zealand. They had been following his exploits in the media. They exchanged 15 to 20 emails and agreed to meet to discuss the opportunity of a TV show.
Last week he returned from Los Angeles where he held "serious studio meetings" with executives.
Henry describes the US opportunity as "too good to be true" but emphasises the series is still in the planning phase.
"But there's probably a very good chance it will all work out. The show is now in what they call a contract-shopping-agreement stage," he says.
It will be presented to various studios and executive writers are being selected. The next meetings are set for February.
Until then, Henry is reluctant to make any decision on the job front. He has entertained job offers ranging from corporates to small media firms, a political party (which he refuses to name) and TVNZ's opposition MediaWorks.
He insists I write that he holds TV3's Brent Harman and Sussan Turner "in really high regard". Evidently that door must be kept ajar, too.
Hollywood producers are factoring in various options to introduce Henry on to the American scene. "They are looking at the best way to introduce me in to the market. Maybe that's a live talk-show that would become part of the television reality series," he says.
"To be honest, I'm at a stage of life where I can afford to take risks."