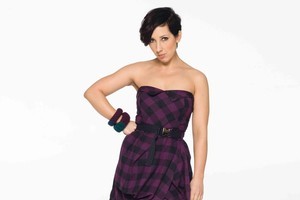 Award-winning TV3 comedian Jaquie Brown has become the latest star to defect to rival network TVNZ, where she is tipped to front a new parenting show.
The comic genius behind The Jaquie Brown Diaries said she had been working on a concept for a new show for some time and was "really excited" to be joining TVNZ.
Brown, 35, who is due to give birth in February, said she was not allowed to discuss specifics about the show, due to air in May.
"I'm really excited about the change," she said. "It's all new and exciting, but we will be working on it next year. It's such a big change.
"You can speculate all you like but I can't say exactly what the show is."
But Brown is already broadcasting her experience of parenting. This week, she tweeted: "Mini feet kicking in my ribs all day, cute but painful."
Mediaworks TV publicity manager Nicole Wood said they were unperturbed at the defection of two of their biggest stars in one week: Jaquie Brown and Petra Bagust.
"Jaquie and Petra are both incredibly talented professionals and we wish them all the best with their new ventures."
Brown and movie director Taika Waititi launched the Jaquie Brown Gelato yesterday at Auckland store Giapo to raise money for Starship hospital.