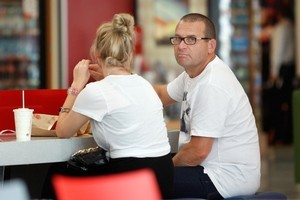 On the day his successors on the Breakfast programme were starting their new jobs, Paul Henry was at Auckland Airport waiting to board a flight to Sydney.
He was greeted by a stream of well-wishers as he had a snack at a hamburger bar.
Their sentiments were summed up by one woman who said she missed him every morning. "It's not the same without you."
The new Breakfast team, Corin Dann and Petra Bagust, made their first appearance in Christmassy style on the programme yesterday morning.
Bagust reckons it will take her three months to get used to getting up at 4 o'clock to get to work every morning.
"Somebody's told me three months before you get used to it, so I'm looking forward to that," she says, laughing.
"I maintain that it's not really the morning - it's the middle of the night - so your body is so shocked, it doesn't even realise.
You're just shocked out of bed, I reckon."
It's nothing new for her new co-host Dann, however, who has been filling in as the frontman for the show and has been the co-host for Breakfast Business.
"I'm used to it," he says cheerfully. "I have been getting up at 3.45-4am - every day."
The pair were announced as the new faces for the show on yesterday's programme.
Introduced by presenters Peter Williams and Pippa Wetzell, who is going on maternity leave, the pair jumped out from behind a Christmas tree, to huge applause.
Wetzell, who was later on the verge of tears as she thanked viewers and colleagues, promised they would be part of "the best" programme on television.
Chatting with Bagust and Dann yesterday, there was a sense of an already established partnership - to the point where they were close to finishing each other's sentences.
"It's absolutely amazing. It's a dream job," Dann said.
"It's so awesome getting to come in. Breakfast is such an established part of people's lives in New Zealand. It really is a big, big show and I feel very privileged and honoured to get the chance to come across and show off some of the skills that I've got; and also to work with Petra."
Smiling, Bagust said: "It's a huge change. There's a sense of returning to my first love - starting in regional television in Christchurch, we were broadcasting three hours live a night, five days a week, you forget where you started and it's lovely to be returning - and I love live [television]."
One thing Dann said he was looking forward to was speaking to Prime Minister John Key every week, as well as further discussing the big stories of the day. Both acknowledged their love for live television presenting. Dann said: "The great thing about Breakfast is it thrives on that spontaneity and I think when things go wrong, just step with the grain - it's always funny. It's just a fun, fun show."
Bagust said: "The key thing for Corin and I, is to be ourselves - to not try and replicate what's been done before. Let's go forward."