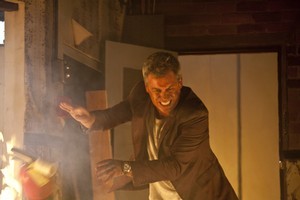 Shortland Street producer Steven Zanoski said he didn't mean to blow up the entire set when filming the show's Christmas cliffhanger episode, but that's what happened.
This is the 16th year the weeknight soap has left audiences teetering before taking a break for Christmas and New Year.
But this year, Zanoski decided to take it the extra mile by adding a real fireball to the final episode of 2010.
Without revealing too much before the main event tonight, a building explodes and five core characters' lives are at stake.
"We knew we were always going to do a burning building, and we wanted to put as many characters as possible in jeopardy for this Christmas," he says.
Zanoski says he hadn't expected their enactment of the fire to cause quite as much damage to the Henderson-based studios as it did.
"The set was in a terrible state. It had to be completely painted, walls had to be put in," he says.
Fortunately staff had about two weeks' grace up their sleeves to recreate the set before the New Year episodes began filming.
Shortland Street doesn't often hire stunt experts, but several were called in for this episode. The fire sequence was very carefully choreographed with a fire team to ensure the actors' safety - and to keep it real. Still, one actor, Matt Chamberlain, who plays Murray Cooper, had to visit the real-life emergency department when he was injured in action.
"Everything you see on screen was done in the studio," Zanoski says. "So when you see flames and smoke, it was there at the time."
Peter Mochrie, who plays hospital CEO Callum McKay, gets his chance at playing the hero in this episode.
"Shooting the final episode was extremely dangerous and every take pushed us to perform the very best we could," he says.
Zanoski says 2010 has been a big year for Shortland Street, as it launched its inaugural feature-length episode, waved farewell to high-profile actor Adam Rickitt and welcomed celebrated actress Rena Owen.
Owen's character, Hine Ryan, has spurred even more unwanted drama for her estranged son Scotty (Kiel McNaughton), who was already struggling with an undiagnosed mental health disorder.
Tracey Morrison (Sarah Thomson) is juggling her fiance's issues with planning their wedding - scheduled for this weekend. Meanwhile, tension builds between Callum and Rachel McKenna (Angela Bloomfield) tonight over her dealings with her long-time flame Chris Warner (Michael), and Evan's playing the teenage fool.
Their drama will heat up in tonight's episode and will not be resolved until the show resumes on January 17.
"The cliffhanger keeps going and going and going," Zanoski says, adding that viewers can look forward to plenty of drama in the New Year, including the return of a popular character.
LOWDOWN
When: Tonight, 7pm
Where: TV2
What: Going off with a bang
-TimeOut