This week we celebrate those who are leading the way through the tough times as we count down to naming the New Zealand Herald Business Leader of the Year. The winner will appear in the Weekend Herald on Saturday.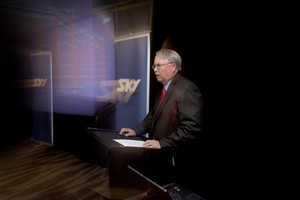 Longevity doesn't guarantee a place among finalists for the Herald's Business Leader of the Year.
But in the case of John Fellet - who has spent 20 years in Sky TV management and 10 years as chief executive - longevity has meant consistency and stability.
A focused strategy has played a big role in Sky Network Television's growth through its toughest year.
Subscriber growth has inched forward in 2010, falling just short of 50 per cent of homes.
Sky TV may have slowed - but it did not go backwards.
That is in marked contrast to free-to-air television which is still recovering from a big hit in 2009.
And reinvestment in technology over this past year - preparing for its big role as host broadcaster for the Rugby World Cup as well as the move into internet TV - means it is well placed to keep growing next year.
That's due in part to Fellet's strong leadership and the personal style of the American who moved to New Zealand on an 18-month assignment to Sky TV in 1990.
As Sky TV has grown it has set the pace for change in the television sector - and few have any doubts that Fellet is leading the charge with Kiwi pay TV.
On the face of it he's deeply focused on the business.
But his presentations to market analysts reveal another subtle trait - he has a bit of showbiz pizzazz.
He distances himself from Sky TV's political lobbying to keep away the biggest threat to Sky's future - regulation.
New Zealand's laissez-faire approach to regulation means Sky TV has been dominant in pay-television delivery and is becoming increasingly dominant in content rights.
Fellet's slow-burning tactic has been to keep the regulators at bay and keep up with changes in technology and the way people consume media.
He has ensured that change is at Sky's pace and has kept early losses from new media like internet TV to a minimum.
We would like to hear from you. Who do you think is a worthy Business Leader of the Year for 2010? Email us at business@nzherald.co.nz