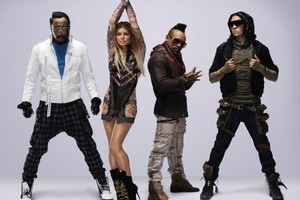 Rating: 2/5
Verdict: ... of the end? Well, not quite, but it sure is irritating
As the finale to Dirty Dancing, the song (I've Had) The Time of My Life sung by Jennifer Warnes and Bill Medley was fine. To resurrect it 23 years later and make it the first bit of singing you hear on a new album could either be a stroke of genius, or, in this case, akin to musical torture. The Black Eyed Peas use - and abuse - the sample on first single (which is No 1 this week) and album opener The Time (Dirty Bit), and with its thinly veiled Can't Get You Outta My Head groove it is the first hint of the mostly annoying plastic fantastic pop music to come.
The Peas have done wonders for pop music - and hip-hop, if they can still be lumped in with that genre anymore - in the last decade. They took underground hip-hop into the pure pop mainstream on 2000's Bridging the Gap, blurred the boundaries further on the excellent Elephunk in 2003, and on a more local level back in 2004 they were the first hip-hop-cum-pop band to get main stage billing at the rock-obsessed Big Day Out.
But The Beginning, the American group's sixth album, rides that fine line being clever and too clever for its own good. It's bogged down by an obsession with trashy Euro trance influences and mindless club beats that render it heartless.
Tracks like the self-explanatory Don't Stop the Party, the rock-tinged The Situation, and the cheesy banging ragga of Do It Like This, might sound good in the dark confines of a club but they irritate like a pesky clothes tag that scratches and chafes. You just need to cut it off.
It's also humourless, which is a shame considering the unbridled fun side of the Peas - Let's Get Retarded and Shut Up for example - is what added to their appeal.
There are glimmers of genius, however. The synth line nicked from KC and the Sunshine Band's Baby Give It Up for Love You Long Time is inspired, yet the song is waffly and overawed by a mongrel mix of chipmunk, vocoder, and auto-tune vocals; the booming catchiness of Someday is a guilty pleasure; and the lash and punchy bass of XOXOXO is easily the shining light but still it's listless when you want it to take off with some bouncy break-dancing inspired energy of old.
But much of The Beginning is comparable to being tied down and made to listen to Crazy Frog.
-TimeOut