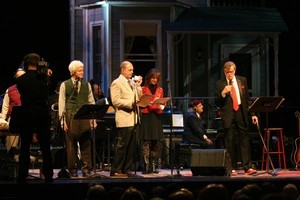 Rating: 5/5
Verdict: Radio with pictures
The term "cinecast" to describe live performances beamed into cinemas makes its first appearance in the deadpan opening to this film. This one, though, comes not from London's National Theatre but from the sentimental heart of the American Midwest.
Like the NT Live shows, it was made to be seen as it happened, but time zone differences make that hard for us. Instead we get to enjoy the October 23 edition of the long-running radio show as staged at its spiritual headquarters - the Fitzgerald Theatre in St Paul, Minnesota.
And what a rich pleasure it is. The weekly radio show, for the benefit of the initiated, is a live-to-air variety performance of comedy and music that has become a micro-cult hit since Garrison Keillor started it in 1973. A affectionate pastiche, it's more old-fashioned than the bygone radio shows it channels: a valentine to life in an idealised small-town middle America and a winning amalgam of country-inflected music, cheesy skits, a radio serial (Guy Noir, Private Eye) and hilarious sound effects.
Not to be confused with the last film of the late, great Robert Altman, which was a drama built around PHC's notional last performance, this is show, and nothing but show, and the talent is stunning: Ely, the second-to-most-famous musician from Lubbock, Texas; the pint-size multi-instrumentalist Watkins whose pure and plaintive voice you could listen to all night; the alt-bluegrass outfit Old Crow Medicine Show; a women's choir and ... well, all sorts really. You have to be there and thanks to this film, you are.
Presiding over all, in owlish glasses and a smart suit finished off with shocking red sneakers, is the lanky, towering 68-year-old Keillor, effortlessly at home, a man plainly enjoying himself and happy to have us along for the ride. If you already know the radio show, this gives it a whole new dimension; if you don't, it's a great place to find out what you've been missing.
LOWDOWN
Cast: Garrison Keillor, Sara Watkins, Joe Ely, Old Crow Medicine Show, Andra Suchy, Sue Scott, Tim Russell, Tom Keith, Fred Newman, Pat Donohue, Peter Johnson
Running time: 163 mins
Rating: Exempt
Playing: Selected sessions at the Bridgeway, Rialto Newmarket, Rialto Tauranga and Lido Hamilton over the next week only. The radio show plays weekend mornings and Sunday evenings on Radio New Zealand National from Boxing Day to January 23.
More info: www.prairiehome.publicradio.org
-TimeOut