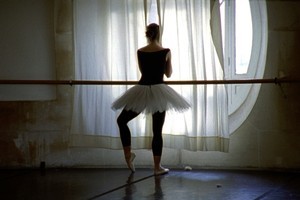 Rating: 3/5
Verdict: Heaven for ballet lovers, but ballet lovers alone
If you're obsessed with ballet, then consider La Danse: The Paris Opera Ballet an early Christmas present. An intimate and lengthy look behind the scenes at one of the world's most prestigious ballet companies, this documentary focuses almost exclusively on the dance, rather than the personalities involved in its performance.
Director Frederick Wiseman concentrates on capturing seven acclaimed ballets the company has in its schedule, taking us from rehearsals to main event but cleverly never shows us the same part of any ballet twice.
This is ballet in close-up, an opportunity to see just how physical, beautiful, emotional and technical this art form is. It's an approach that allows us to admire the ballets in a way quite different to when seen from a theatre seat. At the same time this fly-on-the-wall documentary also offers no personal dramas and none of the dancers or ballet masters are interviewed directly.
As fascinating as this may be to ballet lovers, it becomes a little dry once you've
hit the two-hour mark.
The one person who does add some much-needed personality is artistic director Brigitte Lefevre. We follow her as she manages the dancers and company directors and deals with the ballet's sponsorship team and guest choreographers. She not only perks things up but is a reminder of the delicate balance between art and commerce.
La Danse: The Paris Opera Ballet shows many remarkably talented dancers, whoever they are, with no graphics introducing them to us, or helping us tell them apart. This is a doco for those who know what and who they are watching.
LOWDOWN
Cast: Brigitte Lefevre
Director: Frederick Wiseman
Running Time: 158 mins
Rating: PG (Contains coarse language)
-TimeOut