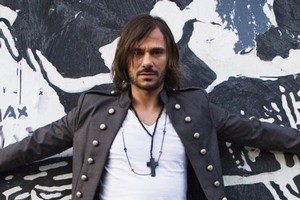 X Factor Australia winner Altiyan Childs is here to play at Christmas in the Park. He talks to Jacqueline Smith.
He might be a household name in Australia after winning The X Factor over there. But he maybe expected his first offshore performance since winning the television would be a fairly intimate affair.
However, when he takes the stage Saturday in Auckland for his first New Zealand performance, Altiyan Childs will be facing a crowd in the hundreds of thousands - he's part of the Christmas in the Park extravaganza. And he's only just found out the size of his reception when TimeOut tells him on the phone ...
"Okay, I didn't realise it was going to be so massive."
Life is so crazy at the moment that Childs "literally doesn't know what the next day holds". In fact he doesn't really know what he's doing in an hour. He's catching a plane somewhere to do some in-store signing. He thinks it might be Perth.
The 35-year-old is living with his new manager because with all the recording and promotional gigs he has been loaded with since winning The X Factor Australia, he doesn't really have time to go home - to his parents' house near Sydney Airport.
But while his schedule might baffle him, the main thing is his vocal cords are holding up well. "That's the one thing that's never let me down," he laughs.
It's just lucky he let himself use them again. Three years ago, Childs gave up on a music career, and ceremoniously put his guitar away. Even singing in the shower was out of bounds.
That's fairly dramatic for someone who discovered he was a natural singer-songwriter as a youngster, and who had been a dedicated member of bands since he was 12. At one point his former band, Masonia, which was around for 10 years, reached No. 41 on the Australian album charts.
They played pop-rock, all originals and Childs was the singer.
If they were to release an album now, "It would be emotional, bursting with sincerity and realness," Childs says.
That's the sort of music he writes. In fact, he had never played covers in his life before The X Factor.
And yes, he definitely finds it more difficult to sing other people's lyrics when they don't come from the heart, he says.
"That's why Ronan [Keating] is such a magnificent mentor. He knew I had to connect with the song, there was no choice, and so he was very, very careful. He would watch my reaction as he would suggest a song, and my reaction would show. He knew I had to be intimately involved with the song and the lyrics for the fire to start."
In the end it didn't matter that Childs kept forgetting the lyrics to the songs he had chosen - Sex on Fire being the most cringeful example - as he won anyway.
It seems audiences, unlike the producers and record companies he used to send his demos to, favour the underdog, and ultimately this is what pushed Childs to the top.
"The public always has a slightly different take on the world than those who are in power," Childs says.
He also had a the support of the Australian Balkan community. Childs was born in Queensland but his father is Croatian and mother is Serbian.
"So I'm truly the old-school Yugoslavian," he says.
According to the online forums, fellow former-Yugoslavians took great pride in his success.
Childs had never really considered the impact of reality television before this year. It never crossed his mind to audition for Australian Idol for example - not that he looked down on it or anything.
"I didn't think very much either way. Obviously I knew people were entertained by reality shows. I was a little confused about where we had got in life in that we sit in each other's lounge rooms and watch other people's real lives. But I think we are a bit voyeuristic, and that's great."
Of course now that he's finally got the music career he had only dreamed of, he thinks reality TV is "a hell of an invention".
"I can never blame the machine for anything," he laughs.
It was his father who encouraged him to enter the competition when he saw his son struggling without music in his life.
"He is a purist. He would sing to get through the day, to get through his pain and losses, his tragic life," Childs says of his dad.
"I would see how music took him away and possessed him and it was so fascinating to me. I was pleased when I realised he had passed on the same."
At just 6 months old, his father was abandoned under a tree. His life thereafter was full of abuse and torture and he was homeless by the age of 11. Leaving his home country to move to Australia was not a tragedy.
It's inspiring that his father came out of the experience, "like a shining star" Childs says.
"He shows me that it's not up to the world to dictate who you are going to be, it's up to your heart."
It's no surprise then that he insists his first paycheck will be spent on his family - he might get them a bed or something, depending on the size of the cheque.
Because his father is ill, Childs was worried about bringing him into the bright lights and noise of the studio, but in the end, he turned up as a surprise to watch his son win the final.
"He felt a few heart palpitations but his spirit was flying high," Childs says.
Childs sounds like he might have a few heart palpitations himself when asked what his next album, if he makes one, might be like.
The self-titled debut, out on Sunday, comprises party-starting covers like Eye of the Tiger, Livin' on a Prayer and Altiyan's more sensitive single Somewhere in the World. When he's finished promoting and touring it, he would love to release something new, hopefully by March or April next year.
"Yes, after 24 years in the making I can safely say that this is the album of a lifetime and believe me it's going to be something. I know it's going to be something else. It might take a few people by surprise."
LOWDOWN
Who: Altiyan Childs
What: Winner of The X Factor Australia
Latest: Self-titled debut album out Sunday
Playing: At Coca-Cola Christmas in the Park, Auckland Domain, this Saturday, about 8.50pm.
-TimeOut