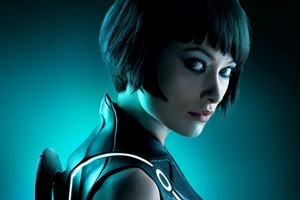 Well, it gets her out of the House. Olivia Wilde might be best known for her supporting role in the Hugh Laurie medical drama, in which she plays the gifted Dr Remy "Thirteen" Hadley. But Tron - her highest profile big screen foray yet - has given her a whole new look.
In her role as Quorra, a warrior and surrogate daughter to Jeff Bridges' Flynn, she's the eye candy, care of a revealing outfit that doesn't leave much to the imagination.
"Getting into that costume was a group effort every single day," says Wilde. "We all became very close friends. Climbing into a suit like that is a process and a challenge but the reward is unlike anything anyone has seen before. It was an honour to wear it," she says.
"I had to physically transform myself to become Quorra, so I did incredible amounts of cross training, martial arts and I developed muscles to the point where I felt as though I could really protect myself in a dark alley," she says.
Like most actresses, Wilde is rail thin, and although remarkably beautiful, she evidently hasn't retained any of her on-screen Amazonian physique.
"My biggest inspiration for Quorra was Joan of Arc. She is both a child and a warrior. She's strong but very compassionate, completely led by selflessness, and seems to be in touch with some higher power. She has one foot in another world."
Despite her obvious physical appeal, Wilde didn't play it up. "I was relieved I didn't have to play her sexy. I was worried she'd be this kind of temptress of the Tron world, a vampy femme fatale wearing leather. But in fact, she's kind of androgynous."
As the 26-year-old New Yorker, who's had her fair share of men's mag covers and hotlist appearances, is leaping into movies, she finds her looks are constantly debated and analysed.
"What does it do to me? Well, I have an inflated, abnormally large-sized head," she jokes. "No, seriously, I don't want to be defined by how I look. And although it's flattering to be on the covers of magazines and considered 'hot,' that kind of thing is fleeting. I want to be an actress until the day I die," she says, a tad dramatically.
The world first came to notice Wilde on the hit show, The OC, in 2004 when she shared a "controversial" kiss with then-It Girl, Mischa Barton. She then became a regular on the cast of House in 2007 and will soon return to the hit series.
In between, Wilde appeared in forgettable movies such as Year One, and Turistas, but will be next seen in a small but pivotal role in the upcoming Russell Crowe thriller The Next Three Days.
Married to Italian-American film-maker, Tao Ruspoli, the son of an Italian prince, Wilde travels to Italy with hubby whenever possible. "I hope to move there one day. I've always wanted to be Italian, and this is as close as I'm going to get," she says.
-TimeOut