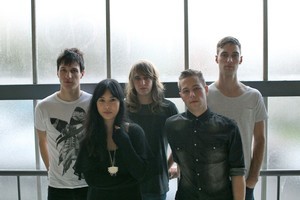 Top Kiwi band the Naked and Famous are moving to London after signing to Fiction Records, the influential British label started in 1978 by New Zealander Chris Parry.
However, the band is "taking the whole thing at face value" because they are wary of how international record deals by other New Zealand artists such as Hollie Smith have not always worked out as planned.
"There is lots of work to be done but the deal we've secured is brilliant," says singer, guitarist and producer Thom Powers. "We're just really excited about putting the record out and seeing how it goes. Because a deal is just a deal, and there have been plenty of deals signed that go nowhere and it's still really early days for us."
He says the band will move to London "to work as hard as we can" next year after completing summer concert dates which include shows with Shihad and playing the Big Day Out.
The song Punching In A Dream, from debut album Passive Me, Aggressive You, is already getting good airplay on BBC radio and will be released in Britain next week, and Young Blood will be the first single to come out in the US.
Meanwhile, the album will be released overseas early next year. The signing caps off a big year for the sonic electro-rock quintet who scored a No 1 single with Young Blood in June, won the Apra Silver Scroll with that song in September, and whose Passive Me, Aggressive You also debuted at No. 1.
Parry, who was the drummer in 60s psychedelic pop band the Fourmyula, sold Fiction in 2000 after having success with a number of bands, most notably the Cure. The label's current roster includes former Stone Roses frontman Ian Brown, top British indie bands Elbow and White Lies and indie singer-songwriter Kate Nash, noisy electro punk Crystal Castles and big-selling rockers Snow Patrol.
The Naked and Famous had courted interest from a number of labels following the "buzz" created by Young Blood and the album. But Powers says the band "just clicked" with Fiction.
"Jim Chancellor, the head of Fiction, has an amazing reputation and his brother [Justin] is in Tool, and I'm a big Tool fan, so I thought off the back of that, 'Why not?' And they 'got' the band and the fact we have done things our way."
-TimeOut