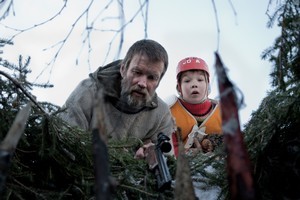 MOVIES
The most intriguing film on this week's list of releases is A Woman, A Gun, A Noodle Shop, which takes the Coen brother's 1985 film Blood Simple to China. For those who like a tightly packed thriller, there's Devil, based on a story by M. Night Shyamalan, who directed The Sixth Sense, which takes place entirely within an elevator.
Documentary maker Frederick Wiseman took his camera behind the scenes of the Palais Garnier in Paris to shoot La Danse: The Paris Opera Ballet and for those who like dry Scandinavian humour and don't particularly like Christmas, Finnish action-comedy Rare Exports - A Christmas Tale could be the one for you. And Emma Stone stars in the latest comedy about virgins and college Easy A.
MUSIC
Surf stud Jack Johnson welcomes the sound of summer tonight at Vector Arena, and as it's called his To The Sea Tour it's fitting that some of the proceeds are going towards Tangaroa Blue Ocean Care Society, which is focused on cleaning up the source of much of Johnson's inspiration: the sea.
Bon Jovi, who were moved from Mt Smart Stadium to Vector Arena, play Livin' on A Prayer and other such hair-metal hits on Sunday night.
And on the local front, Lawrence Arabia is on A Decade of New Zealand Tour playing with Pantha and the Zoo (who are due to release an album next year - keep an eye out) on Wednesday at the Kings Arms.
TV
The Rocky Horror Show has already leapt out of the 1970s and into 2010 once this year, with the touring stage show performing at the Civic last month, and on Friday the coolest nerds on TV have a go at the Time Warp on Glee. It's a chance for Kurt to get his creep on as Riff Raff and for Mercedes (the girl) to dress up as a guy who is dressed up as a girl.
And Tuesday night gets that much more funny with the addition of Better Off Ted to C4 and Larry David's Curb Your Enthusiasm to Comedy Central.
OR...
If you were planning on a casual stroll through Western Springs Park this Sunday, you're sure of a big surprise. It's the Auckland Kindergarten fundraiser the Teddy Bears Picnic in Western Springs from 11am till 4pm - a chance to pack some sammies and head outdoors if you are not attending a silly season-related celebration, and have kids, or are just particularly fond of soft toys.
-TimeOut