Minding Frankie by Maeve Binchy
Orion, $39.99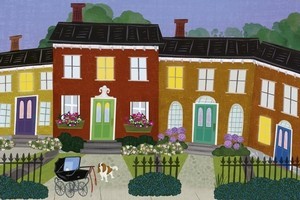 Maeve Binchy does it again. After more than 20 novels, novellas and short story collections, and at an age when some writers have trouble staying current, Binchy has pulled off yet another thoughtful yet undemanding story that will delight her millions of fans.
Minding Frankie is about the importance of kinship. Not just blood ties and family, but the untidy, irreplaceable kinship of friends and neighbours that many of us have to make do with as the world settles into globalisation mode.
This big, fat, satisfying book that can last you a weekend, or a fortnight if you're busy, is stuffed with lovely, big-hearted Irish personalities - and some miserly shockers.
It has four main characters. There's the alcoholic, drippy Noel and his super-efficient cousin Emily, who arrives from America and starts to sort his family out. The sour and unimaginative Moira, from the Irish equivalent of Social Welfare who doesn't believe Noel has what it takes to bring up a baby girl.
Then there's Lisa, who flats with Noel and baby Frankie, who lays herself at the feet of the town bad boy.
By the end of the 370-odd pages, everyone is transformed and some touchy, seriously modern subjects have been explored. Although you can see the plot coming together, there are surprises.
The kernel of the story is baby Frankie, whose mother Stella dies at her birth, leaving her under the guardianship of Noel, whom Stella claimed is the father.
Although Noel can hardly remember the deed, he goes to AA and after a little prodding from Emily, takes up the challenge.
But that's just the beginning. Binchy is not into morose, unhappy endings. Instead, she's a marvellous story-teller who writes about life as most of us know it, with all its bumps, personal tragedies and "no exits".
This time she has characters who fall off the wagon, neighbours who up and die when you need them most, social workers with complicated agendas, girls who keep pursuing cads and the transformative power of loving and giving.
But the essential message of this novel is one that Binchy (who apparently had a wonderful upbringing herself) has explored in several of her novels.
Good friends are as important as family. It isn't necessarily blood ties that bind big-hearted people to their babies. And an unconventional, "good enough" upbringing, stacked with lots of loving friends and minders, can be a whole lot better than the strait-laced, arid, conventional upbringing some ordinary families offer.
Carroll du Chateau is an Auckland reviewer.