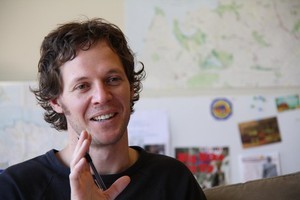 Apathetic isn't a word that springs to mind to describe actor Gareth Reeves; anyone who clocks up almost a decade of work in theatre, film and television must have a certain amount of vigour and determination.
Now Reeves, best known for his roles in TV series The Cult and Go Girls, adds another achievement to his acting and playwriting credits. He makes his theatre directorial debut with the explosive Scottish play Gagarin Way, which combines politics, terrorism, psychopathology, existentialism, globalisation and the alleged crisis in masculinity with an equal measure of comedy.
Reeves and the production team have chosen to stage the fast-paced play in an unconventional - but entirely appropriate - venue: 181 Hobson St, a warehouse used by a Chinese newspaper company. Ironically, it's opposite Auckland Central Police Station.
Auckland theatre-makers have expressed a desire to work more often in under-used urban spaces so Gagarin Way may mark the start of something bigger.
Reeves said he wanted to direct the play because it allowed him to explore "my apathy" - and that of an entire generation who, he believes, aren't in any hurry to investigate what's behind sound-bite news items.
"We've just had a very clear example of what can happen when you try to improve your working conditions," he says, referring to the stand-off between actors and producers in the film The Hobbit.
Written in 2001, Gagarin Way was the first play by Gregory Burke, the man behind Black Watch, which was based on interviews with former soldiers in the Black Watch regiment of the British Army serving in Iraq.
Reeves describes Black Watch as a powerful piece of theatre, and said he was interested to know more about Burke. What he discovered prompted Reeves to question his own life. "Gregory Burke wrote Gagarin Way after working in a factory, much like the ones described in the play. It was an environment where workers were passionate about, and very involved with, the union, which they kept asking Burke to join. He couldn't think of anything worse and started asking himself why he felt this way.
"Gagarin Way is an actual street in Scotland named after the Russian cosmonaut, Yuri Gagarin. It reflects the socialist leanings and political radicalism of the people who used to live there; maybe they thought there would be a communist uprising and the revolution would recognise their sympathies because of the name they'd called their street.
"None of that happened, though; now it's just an empty name on a street sign. Burke wanted to know what happened to politics, especially socialism, and whether anyone cared any more. I've asked myself those same questions."
The play focuses on two disillusioned and not-so-bright factory workers, Gary and Eddie, who kidnap a Japanese business executive to demonstrate their anti-corporate sentiments.
Their plan goes awry when they discover Frank, the businessman they've abducted, is not a Japanese executive and, because Eddie forgot the balaclavas, he can identify his kidnappers. Further problems arise when Tom, a young security guard with a degree in political science, gatecrashes the scene of the crime.
Producer Kevin Keys, who also plays Eddie, says Gagarin Way is a clever mix of the cerebral and visceral; the comic and the dramatic. "It's got brains and it's got guts. You often get too much of one and not enough of the other but this has both - and it's topical."
The all-male cast includes Will Wallace, who also starred in The Cult, Edward Newborn and relative newcomer Emmet Skelton, soon to be seen in TV3's new series The Almighty Johnsons.
Years ago, Keys appeared in a Wellington production of Gagarin Way and wanted to bring the piece to Auckland. While working together this year on the stage show August Osage County, he and Reeves decided to collaborate.
The cast say Reeves is an "actors' director" who, because of his background and experience, understands how to take a script from the page to the stage and knows what will work for each actor. "He's automatically in tune with us," says Wallace.
What: Gagarin Way
Where and when: Gagarin Way Garage, 181 Hobson St, December 1-11