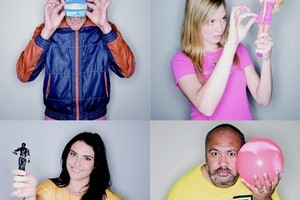 McPhail and Gadsby, French and Saunders, Medlock and Musgrove: the latter may not be so well known but this Christmas two of their plays will entertain revellers in Auckland and Wellington.
The duo is Natalie Medlock and Dan Musgrove, writers and actors from Wellington who moved to Auckland nearly three years ago. This year two of their shows - Toys at The Basement in Auckland and Christ Almighty at Wellington's Bats - will keep around 80 actors busy.
A revolving cast of 40 actors perform in each production, meaning the audience never know who they're going to see until they arrive for the night's show. Each actor picks what character he or she will play and how they'll approach the role, meaning every performance is a truly individual one.
Morgana O'Reilly and Michael Hurst are among a handful of actors who have appeared in both of Medlock and Musgrove's Christmas shows. Their motivations for signing on for Toys are similar.
Both say it gives them a chance to experiment with different characters and performance styles without having to commit to a two-month rehearsal and show season.
"As an actor you don't often get to make your own choices about your characters," says O'Reilly. "You're cast for commercial reasons or because of the certain qualities you are perceived to have as an actor, but in shows like Christ Almighty or Toys you can make a really brave and risky choice and there's a wonderful freedom in that."
Last year O'Reilly was the Three Wise Women; this year she plays a ball. Hurst portrays a Jack-in-the-Box after playing the Angel Gabrielle in Christ Almighty.
"It's a chance to do something completely out of left field and the audiences completely buy into it too," he says. "They come along to have a good time, to laugh and let off steam, which is what the actors are doing."
O'Reilly describes Medlock and Musgrove as having a wonderful dry wit, writing scripts where jokes range from sophisticated observations on modern life to potty humour.
Hurst thinks they're so good he has asked them to write him a solo show.
"Natalie and Dan are great. They've got a youthful energy, no fear and they're risk takers. They are the type of people we need to be supporting."
The Basement started the trend for revolving casts in 2008, when it staged American cult Christmas comedy The Eight: Reindeer Monologues using 40 actors to portray eight characters - Santa's reindeers - in 14 performances.
It was so successful that Musgrove and Medlock, who had been writing and performing their own shows for around four years, approached Basement boss Charlie McDermott about writing a script which used the same monologue-driven format.
That was Christ Almighty, which turned the nativity story on its head when the duo focused comic attentions on the shepherds, wise men, angels and other lesser known characters in the biblical tale.
It proved a massive draw card and spurred them to write a sequel - of sorts. Toys turns from the religious to the secular.
It is Christmas time at 7-year-old Charlie's house but he has disappeared in a big white truck with flashing lights on top.
Something terrible has happened to the little chap and his toys have got some explaining to do - or are they simply getting their own back?
The toys include a ball, a Barbie, a teddy bear, a Share-A-Smile Becky doll in a pink wheelchair, a G.I. Joe doll and a Jack-in-the-Box.
And while it's a Christmas story, it's not one for children.
What: Toys
Where and when: The Basement, December 2-18